« Takes one to know one... | Main | Reading List: Basic Economics »
Monday, September 29, 2008
Lignières: Désalpe 2008 Photos Posted
Last Saturday was the
Désalpe de Lignières
, with the customary magnificent weather (
wishing works
). Fourmilog was there, as usual, to cover the parade.
Last year
I led with the cows, so this time, let's go with the goats.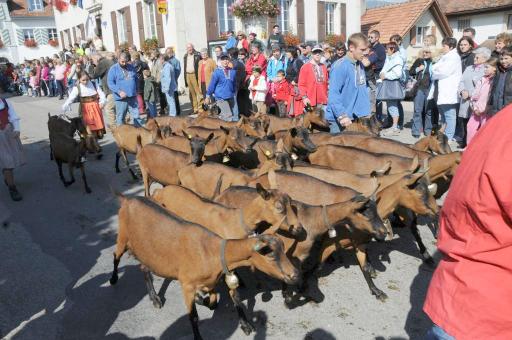 Click on the image above for the
complete photo gallery
. This year's chronicle includes embedded audio clips of musical and joyfully noisy participants in the parade. These were recorded with an
M-Audio MicroTrack II
digital recorder. Photographs were taken with a
Nikon D300
camera with the 18–200 mm VR zoom lens which performed so well in the more demanding environment at the
North Pole
.
Update:
I have added
three videos
from the Désalpe taken by Marcel Fleury. No, you're not dreaming—
embedded Flash videos
at Fourmilab! What's next: the Dow closing under 10,000? (2008-10-06 21:05 UTC)
Posted at September 29, 2008 23:09