« First Blooms of Spring | Main | Blooming Jade Plant »
Monday, March 16, 2009
Need an inflatable building?
The readership here is sufficiently zany and enterprising that one of you may actually have a use for this unique item.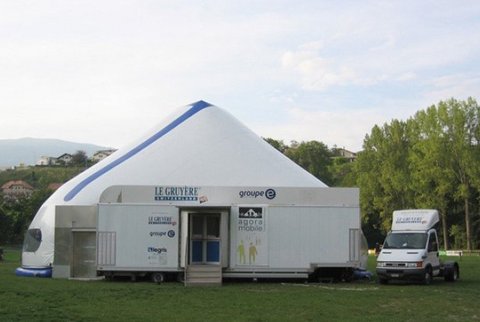 This is a semi-trailer (the tractor shown in the picture has already been sold and is not included) which inflates into a building of 185 m² which seats around 150 people configured as a conference centre. The inflated building is anchored to the ground by a water ballast ring, and can be erected and struck by a crew of 3 to 4 persons in half a day. For further details and additional pictures, see the
brochure
. The inflatable building is five years old and cost CHF245,000 new. It is being offered for sale at CHF140,000, from which will be deducted the cost of several planned repairs. The purchaser can take delivery of the trailer in St. Blaise, Switzerland (near Neuchâtel), and bears the cost of transporting it onward from there. I have no financial interest in this sale. I have been a contributor to the foundation which operated this nomadic conference centre, but will not receive any proceeds of the sale. I mention it here purely because it's the sort of one of a kind gizmo which intrigues folks like us and, who knows, maybe it's just what you've been looking for. If you're interested in acquiring this "Agoramobile" contact Jacques de Montmollin at +41 79 437 03 12 or via E-mail:
info
at
fondation-proregio.ch
. Do
not
contact me; I'm out of the loop.
Posted at March 16, 2009 23:54