« It's official! NASA is a jobs program. | Main | Gnome-o-gram: Adjustable Rate Mortgages, Notional Value, and the Double Dip »
Friday, August 21, 2009
Mozilla Thunderbird "Domain Name Mismatch": Explanation and Work-Around
Today, when I first checked the computer, a popup window informed me that the latest update, version 2.0.0.23, of the
Mozilla Thunderbird
mail client program had been downloaded and was ready to install. As this was a security update, I went ahead with the installation immediately. After restarting Thunderbird, it immediately popped up the following dialogue: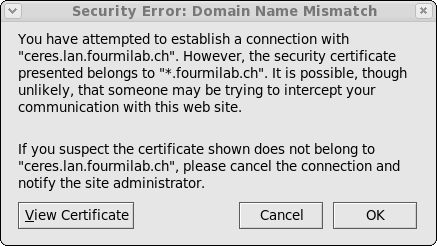 and to my dismay popped it up
every time
it contacted my in-house, behind the firewall, mail server, either manually or automatically. What appears to have happened is that
this security update
, which is being deployed across
all
Mozilla Foundation products, has changed the rules for security certificates generated with wildcards. While a certificate generated for "*.fourmilab.ch" would previously be accepted for a machine with a name such as "ceres.lan.fourmilab.ch" (the mail server), now the warning pops up on every such connection. This is going to strike lots of people who use a common site-wide certificate across all the machines in a server farm, or use a single server to host sites in several different domains. Fortunately, there is a Thunderbird add-on, "
Remember Mismatched Domains
", which adds a check box to the warning dialogue which allows accepting the "mismatch" and not warning further about that specific mismatch. This add-on has already been downloaded more than 125,000 times, and methinks it's about become even more popular in the near future. Just download and install the add-on, accept the domain(s) which are generating the warning, and you're back in business.
Posted at August 21, 2009 19:54