« November 2007 | Main | January 2008 »
Monday, December 31, 2007
Fourmilab Server Farm: One Year Uptime
On the last day of 2007, the Fourmilab
server farm
reached the milestone of all machines which provide public services (Web, FTP,
HotBits
, etc.) having run for one year or more without a reboot or other system-wide service outage. The dual redundant power supplies of the Dell PowerEdge 1850 principal servers allowed the swap-out of an Uninterruptible Power Source (UPS) which failed to live up to its name without the need to shut down the servers to which it provided partial power.
| Host name | Function | Uptime as of 2007-12-31 |
| --- | --- | --- |
| server1 | Active public server | 365 days, 10:31 hours |
| server0 | Backup public server | 722 days, 17:03 hours |
| server3 | Test/administration server | 378 days, 12:57 hours |
| hotbits0 | HotBits generator 0 | 463 days, 10:12 hours |
| hotbits1 | HotBits generator 1 | 428 days, 22:42 hours |
Some people berate sites which rack up lengthy uptime records, claiming that this indicates neglect of preventive software maintenance, in particular keeping systems up to "current patch level". Now, this is largely an instance of intellectual corruption due to Microsoft, where updating a music player requires rebooting a running system, but some Linux users also assume that frequent kernel updates and reboots to install them are essential for a secure system. Fourmilab's philosophy is different—on server farm machines, essentially the only component from the Linux software distribution used in the critical path is the kernel. Everything else: Web, FTP, mail, DNS, and other servers are built from source which resides in the server's private "
/server
" partition and, in keeping with the Unix tradition, any of these components can be updated as required simply by restarting it—no system reboot is required. When a security or other update to one of the public server packages is released, I build it from source and test it on
server3
, the "Test/administration server", which is actually a 6 year old laptop with a software configuration identical to the production servers. After testing, the update is deployed on the active and backup production servers with
rdist
, then put into production by restarting the server process on these machines; the interruption to public requests due to such a restart is on the order of one second. I generally install server updates on the active server first and leave the previous version on the backup server until I'm confident the new release is working well. That way, should the update crash or otherwise become nonresponsive under the real-world load, the load balancer will automatically fail over to the previous version running on the backup server. The
Fourmilab firewall
is configured to only allow packets from the Internet to reach server farm machines on the ports on which these locally-built server processes listen; all other incoming traffic is discarded, so potentially vulnerable components from the Linux distribution, even if they were listening on some port, cannot be accessed from off-site by would-be attackers.
Posted at 16:45

Sunday, December 30, 2007
Animal Magnetism: Not a Snake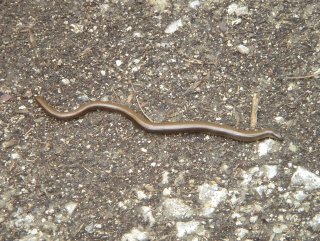 This is not a snake. I know—"If it looks like a snake, and it slithers like a snake…", but when's the last a time a snake
blinked its eyes
at you? Details of my May 2007 encounter with this confusing creature have just been posted on the new "
Not a Snake
" page of the
Animal Magnetism
section of the site.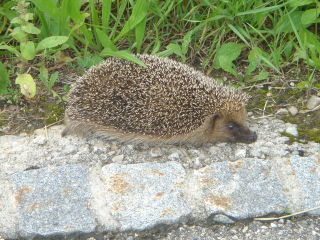 Update:
On Moon Day (July 20th) 2007, thunderheads towered so high above the Jura mountains that in mid-afternoon it was as dark as dusk. So dark, in fact, that a usually nocturnal hedgehog emerged from its den and was spotted walking along the side of a road. I've added a picture I took on this occasion to the
hedgehog
page of
Animal Magnetism
. (2007-12-31 19:58 UTC)
Posted at 17:57

Friday, December 28, 2007
Reading List: Great Feuds in Mathematics
Posted at 16:22

Tuesday, December 25, 2007
Reading List: Gastroanomalies
Posted at 15:17

Friday, December 21, 2007
Reading List: The Rocketbelt Caper
Posted at 15:06

Thursday, December 20, 2007
Reading List: Energy Victory
Posted at 19:13

Tuesday, December 18, 2007
Reading List: Fashion Babylon
Posted at 23:53

Friday, December 14, 2007
Notes toward a General Theory of Paranormal Phenomena Posted
Notes toward a General Theory of Paranormal Phenomena
expounds an idea that's been evolving in my mind since the 1990s. The document has been a work in progress since 2006: linked to from various places deep within the site and from the occasional posting in this chronicle, but not deemed ready for a top-level listing in the navigation tree. I've finally decided that, with some revisions and additions, it's converged reasonably well toward my take on the topic. In any case, I can't think of anything to add to the document in its present state which would make it more comprehensive or comprehensible. So, as with innumerable software projects and a recent
history book
, it's time to exclaim "
Ship it!
" and loose it upon the world, reflexively cringing in anticipation of the response from the relentlessly (and admirably) rational and punctilious audience who frequent this site. In this edition I've added an item to the "Applications" section which describes how
placebos, homeopathy, and faith healing
might work within this "multiverse navigation" model.
Posted at 22:10

Monday, December 10, 2007
Reading List: Whoosh Boom Splat
Posted at 21:22

Saturday, December 8, 2007
Reading List: Dark Mission
Posted at 23:31

Tuesday, December 4, 2007
Reading List: The Ghost Map
Posted at 23:51

Monday, December 3, 2007
Earth and Moon Viewer, Your Sky, and Solar System Live Updated
I have just posted updated versions of
Earth and Moon Viewer
,
Your Sky
, and
Solar System Live
which improve usability by wrapping applicable radio button and checkbox controls in XHTML "
<label>
" containers. This is an often-neglected refinement which makes a page both kinder to visitors and more professional in appearance. When you're creating an XHTML form with controls of these types, if you simply include the controls with adjacent labels, the user has to click on the button itself (which in these cases is rather small), but if you enclose the control and its legend within a "
<label>
" container (or, equivalently, tie the legend to the control with the "
<label for="
id
">
" form of the tag), then the user can click anywhere in the legend as well as on the control itself. This not only provides a larger target, it's consistent with the behaviour of most window systems with which users are familiar. For example, consider the following do-nothing form:
Note that you can click on either the button or the legend of "Gromify", which is enclosed in a "
<label>
" container, but only on the button for "Brozzulate", which is not. The weasel word "applicable" in the first sentence excludes legends of buttons which are already links to a help file item explaining the button. Obviously, a legend can only do one thing when you click it, and I decided that preserving help file links was more important than the convenience of pressing the button by clicking the legend. The ability to click on legends has been extended not only to dynamic pages returned by the applications, but to all associated static pages (custom request forms, help text, etc.). A few additional changes were made in Your Sky:
In the Ephemeris tables, the abbreviations "AU" (astronomical unit) and "ER" (Earth radius) now pop up a definition of the term if you move the mouse over them.
A typographical error in the URL used to embed the image in results from the Horizon View and Virtual Telescope applications caused a validation error with the most recent version of the W3C Markup Validation Service—fixed.
All signed numbers appearing in XHTML now use the "−" text entity instead of the ASCII "-" which most browsers render as a hyphen instead of a minus sign as wide as the plus sign.
Posted at 21:19