« August 2015 | Main | October 2015 »
Monday, September 28, 2015
Total Lunar Eclipse 2015-09-28
Here is an animation of the eclipse from the start through mid-totality.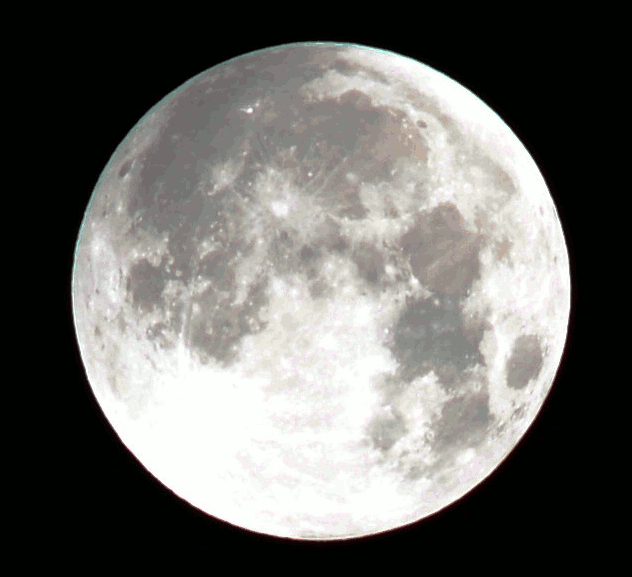 These images were taken with a
Nikon D600
camera and a 25 year old
Nikon 300 mm f/4.5 lens
. All exposures were made with a lens aperture of f/8 and ISO sensitivity of 200. Exposures prior to totality used a shutter speed of 1/125 second, allowing you to see how the Moon darkened as it entered the penumbra. The shot at the start of totality (where the lower limb of the Moon is quite bright) used a shutter speed of 1/4 second, while the remaining two images of totality used a one second exposure. I have aligned, rotated, and stacked the images while preparing the animation with
The Gimp
, taking out the apparent rotation of the Moon due to the Earth's rotation as the eclipse progressed.
Posted at 17:03

Monday, September 21, 2015
Reading List: Sacramento's Moon Rockets
Lawrie, Alan. Sacramento's Moon Rockets. Charleston, SC: Arcadia Publishing, 2015. ISBN 978-1-4671-3389-0.

In 1849 gold was discovered in California, setting off a gold rush which would bring a wave of prospectors and fortune seekers into one of the greatest booms in American history. By the early 20th century, the grizzled prospector panning for gold had given way to industrial extraction of the metal. In an age before anybody had heard the word "environmentalism", this was accomplished in the most direct way possible: man made lakes were created on gold-bearing land, then a barge would dredge up the bottom and mix it with mercury, which would form an amalgam with the gold. The gold could later be separated, purified, and sold. The process effectively destroyed the land on which it was used. The topsoil was ripped out, vegetation killed, and the jumbled remains after extraction dumped in barren hills of tailings. Half a century later, the mined-out land was considered unusable for either agriculture or residential construction. Some described it as a "moonscape". It was perhaps appropriate that, in the 1960s, this stark terrain became home to the test stands on which the upper stage of NASA's Saturn rockets were developed and tested before flight. Every Saturn upper stage, including those which launched Apollo flights to the Moon, underwent a full-duration flight qualification firing there before being shipped to Florida for launch. When the Saturn project was approved, Douglas Aircraft Company won the contract to develop the upper stage, which would be powered by liquid hydrogen and liquid oxygen (LH2/LOX) and have the ability to restart in space, allowing the Apollo spacecraft to leave Earth orbit on a trajectory bound for the Moon. The initial upper stage was called the S-IV, and was used as the second stage of the Saturn I launcher flown between 1961 and 1965 to demonstrate heavy lift booster operations and do development work related to the Apollo project. The S-IV used a cluster of six RL10 engines, at the time the largest operational LH2/LOX engine. The Saturn I had eight engines on its first stage and six engines on the S-IV. Given the reliability of rocket engines at the time, many engineers were dubious of getting fourteen engines to work on every launch (although the Saturn I did have a limited engine out capability). Skeptics called it "Cluster's last stand." The S-IV stages were manufactured at the Douglas plant in Huntington Beach, California, but there was no suitable location near the plant where they could be tested. The abandoned mining land near Sacramento had been acquired by Aerojet for rocket testing, and Douglas purchased a portion for its own use. The outsized S-IV stage was very difficult to transport by road, so the ability to ship it by water from southern California to the test site via San Francisco Bay and the Sacramento River was a major advantage of the location. The operational launchers for Apollo missions would be the Saturn IB and Saturn V, with the Saturn IB used for Earth orbital missions and the Saturn V for Moon flights and launching space stations. An upgraded upper stage, the S-IVB, would be used by these launchers, as the second stage of the Saturn IB and the third stage of the Saturn V. (S-IVBs for the two launchers differed in details, but the basic configuration was the same.) The six RL-10 engines of the S-IV were replaced by a single much more powerful J-2 engine which had, by that time, become available. The Sacramento test facility was modified to do development and preflight testing of the S-IVB, and proceeded to test every flight stage. No rocket firing is ever routine, and in 1965 and 1967 explosions destroyed an S-IV test article and a flight S-IVB stage which was scheduled to be used in Apollo 8. Fortunately, there were no casualties from these spectacular accidents, and they provided the first data on the effects of large scale LH2/LOX explosions which proved to be far more benign than had been feared. It had been predicted that a LH2/LOX explosion would produce a blast equal to 65% of the propellant mass of TNT when, in fact, the measured blast was just 5% TNT equivalent mass. It's nice to know, but an expensive way to learn. This book is not a detailed history of the Sacramento test facility but rather a photo gallery showing the construction of the site; transportation of stages by sea, road, and later by the amazing Super Guppy airplane; testing of S-IV and S-IVB stages; explosions and their aftermath; and a visit to the site fifty years later. The photos have well-researched and informative captions. When you think of the Apollo program, the Cape, Houston, Huntsville, and maybe Slidell come to mind, but rarely Sacramento. And yet every Apollo mission relied upon a rocket stage tested at the Rancho Cordova site near that city. Here is a part of the grandiose effort to go to the Moon you probably haven't seen before. The book is just 96 pages and expensive (a small print run and colour on almost every page will do that), but there are many pictures collected here I've seen nowhere else.
Posted at 02:15

Saturday, September 19, 2015
New: Kerbal Space Program Screenshot Gallery
I've just posted the
Kerbal Space Program Screenshot Gallery
, a collection of screen captures from
Kerbal Space Program
accumulated over a several-months-long play-through in
career mode
which unlocked the entire
technology tree
and visited every body in the
Kerbol
system. An introduction explains the basics of the game to those unacquainted with it. I will add to the archive as adventures continue.
Posted at 13:25

Monday, September 14, 2015
Reading List: Mud: A Military History
Wood, C. E. Mud: A Military History. Washington: Potomac Books, 2006. ISBN 978-1-59797-003-7.

Military historians from antiquity to the present day have examined innumerable aspects of human conflict in painstaking detail: strategy, tactics, morale, terrain, command structures, training of troops, logistics, mobility, weapons, armour, intelligence both before the battle and after the enemy is engaged, and a multitude of other factors which determine the outcome of the engagement. If you step back from the war college or general staff view from above and ask the actual combatants in land warfare, from privates to flag rank, what they often recall as dominating their contemporary memories, it will often be none of these things, but rather mud. This is the subject of this slim (190 page) but extensively researched and documented book. When large numbers of men, equipment, and horses (or, in the modern era, mechanised vehicles) traverse terrain, unless it is totally dry, it is likely to be stirred up into a glutinous mix of soil and water: mud. The military mind cannot resist classifying things, and here the author draws the distinction between Type I mud, which is "bottomless" (well, not really, of course, but effectively so since it is deep enough to mire and swallow up any military force which attempts to cross it), Type IIa, which is dominated by liquid and can actually serve to clean hardware which passes through it but may make it impossible to dig trenches or build fortifications, and Type IIb, which is sticky and can immobilise and render ineffective everything from an infantryman's entrenching tool to a main battle tank. The book illustrates the impact of mud on land warfare, examining its effects on engineering works such as building roads and fortifications, morale of troops, health, and wear and tear and reliability of equipment. Permanent mud (as exists in marshes and other wetlands), seasonal mud (monsoons and the horrific autumn rain and spring thaw mud in Russia which brought both Napoleon and Hitler's armies to a standstill), and random mud (where a downpour halts an advance as effectively as enemy action) each merit their own chapters. Technical discussions of the composition and behaviour of mud and its effects upon soldiers and military equipment are illustrated by abundant examples from conflicts from antiquity to the most recent war in Iraq. Most examples date from the era of mechanised warfare, but the reader will rapidly appreciate that the reality of mud to the infantryman has changed little since the time of Thucydides. In Cat's Cradle, Kurt Vonnegut has one of his characters asked to solve one of the greatest problems facing Marines in combat: mud. The solution, ice-nine, is fantasy, but generations of Marines would probably agree upon the primacy of the problem. Finally the importance of mud in military affairs gets its due in this book. One hopes military planners will not ignore it, as so many of their predecessors have with disastrous consequences.
Posted at 01:16

Saturday, September 5, 2015
Reading List: The Singular Universe and the Reality of Time
Unger, Roberto Mangabeira and Lee Smolin. The Singular Universe and the Reality of Time. Cambridge: Cambridge University Press, 2015. ISBN 978-1-107-07406-4.

In his 2013 book Time Reborn (June 2013), Lee Smolin argued that, despite its extraordinary effectiveness in understanding the behaviour of isolated systems, what he calls the "Newtonian paradigm" is inadequate to discuss cosmology: the history and evolution of the universe as a whole. In this book, Smolin and philosopher Roberto Mangabeira Unger expand upon that observation and present the case that the current crisis in cosmology, with its appeal to multiple universes and mathematical structures which are unobservable, even in principle, is a consequence of the philosophical, scientific, and mathematical tools we've been employing since the dawn of science attempting to be used outside their domain of applicability, and that we must think differently when speaking of the universe as a whole, which contains all of its own causes and obeys no laws outside itself. The authors do not present their own theories to replace those of present-day cosmology (although they discuss the merits of several proposals), but rather describe their work as a "proposal in natural philosophy" which might guide investigators searching for those new theories. In brief, the Newtonian paradigm is that the evolution of physical systems is described by differential equations which, given a set of initial conditions, permit calculating the evolution of a system in the future. Since the laws of physics at the microscopic level are reversible, given complete knowledge of the state of a system at a given time, its past can equally be determined. Quantum mechanics modifies this only in that rather than calculating the position and momentum of particles (or other observables), we calculate the deterministic evolution of the wave function which gives the probability of observing them in specific states in the future. This paradigm divides physics into two components: laws (differential equations) and initial conditions (specification of the initial state of the system being observed). The laws themselves, although they allow calculating the evolution of the system in time, are themselves timeless: they do not change and are unaffected by the interaction of objects. But if the laws are timeless and not subject to back-reaction by the objects whose interaction they govern, where did they come from and where do they exist? While conceding that these aren't matters which working scientists spend much time thinking about, in the context of cosmology they post serious philosophical problems. If the universe all that is and contains all of its own causes, there is no place for laws which are outside the universe, cannot be acted upon by objects within it, and have no apparent cause. Further, because mathematics has been so effective in expressing the laws of physics we've deduced from experiments and observations, many scientists have come to believe that mathematics can be a guide to exploring physics and cosmology: that some mathematical objects we have explored are, in a sense, homologous to the universe, and that learning more about the mathematics can be a guide to discoveries about reality. One of the most fundamental discoveries in cosmology, which has happened within the lifetimes of many readers of this book, including me, is that the universe has a history. When I was a child, some scientists (a majority, as I recall) believed the universe was infinite and eternal, and that observers at any time in the past or future would observe, at the largest scales, pretty much the same thing. Others argued for an origin at a finite time in the past, with the early universe having a temperature and density much greater than at present—this theory was mocked as the "big bang". Discovery of the cosmic background radiation and objects in the distant universe which did not at all resemble those we see nearby decisively decided this dispute in favour of the big bang, and recent precision measurements have allowed determination of when it happened and how the universe evolved subsequently. If the universe has a finite age, this makes the idea of timeless laws even more difficult to accept. If the universe is eternal, one can accept that the laws we observe have always been that way and always will be. But if the universe had an origin we can observe, how did the laws get baked into the universe? What happened before the origin we observe? If every event has a cause, what was the cause of the big bang? The authors argue that in cosmology—a theory encompassing the entire universe—a global privileged time must govern all events. Time flows not from some absolute clock as envisioned by Newtonian physics or the elastic time of special and general relativity, but from causality: every event has one or more causes, and these causes are unique. Depending upon their position and state of motion, observers will disagree about the durations measured by their own clocks, and on the order in which things at different positions in space occurred (the relativity of simultaneity), but they will always observe a given event to have the same cause(s), which precede it. This relational notion of time, they argue, is primordial, and space may be emergent from it. Given this absolute and privileged notion of time (which many physicists would dispute, although the authors argue does not conflict with relativity), that time is defined by the causality of events which cause change in the universe, and that there is a single universe with nothing outside it and which contains all of its own causes, then is it not plausible to conclude that the "laws" of physics which we observe are not timeless laws somehow outside the universe or grounded in a Platonic mathematics beyond the universe, but rather have their own causes, within the universe, and are subject to change: just as there is no "unmoved mover", there is no timeless law? The authors, particularly Smolin, suggest that just as we infer laws from observing regularities in the behaviour of systems within the universe when performing experiments in various circumstances, these laws emerge as the universe develops "habits" as interactions happen over and over. In the present cooled-down state of the universe, it's very much set in its ways, and since everything has happened innumerable times we observe the laws to be unchanging. But closer to the big bang or at extreme events in the subsequent universe, those habits haven't been established and true novelty can occur. (Indeed, simply by synthesising a protein with a hundred amino acids at random, you're almost certain to have created a molecule which has never existed before in the observable universe, and it may be harder to crystallise the first time than subsequently. This appears to be the case. This is my observation, not the authors'.) Further, not only may the laws change, but entirely new kinds of change may occur: change itself can change. For example, on Earth, change was initially governed entirely by the laws of physics and chemistry (with chemistry ultimately based upon physics). But with the emergence of life, change began to be driven by evolution which, while at the molecular level was ultimately based upon chemistry, created structures which equilibrium chemistry never could, and dramatically changed the physical environment of the planet. This was not just change, but a novel kind of change. If it happened here, in our own recent (in cosmological time) history, why should we assume other novel kinds of change did not emerge in the early universe, or will not continue to manifest themselves in the future? This is a very difficult and somewhat odd book. It is written in two parts, each by one of the co-authors, largely independent of one another. There is a twenty page appendix in which the authors discuss their disagreements with one another, some of which are fundamental. I found Unger's part tedious, repetitive, and embodying all of things I dislike about academic philosophers. He has some important things to say, but I found that slogging through almost 350 pages of it was like watching somebody beat a moose to death with an aluminium baseball bat: I believe a good editor, or even a mediocre one, could have cut this to 50 pages without losing anything and making the argument more clearly than trying to dig it out of this blizzard of words. Lee Smolin is one of the most lucid communicators among present-day research scientists, and his part is clear, well-argued, and a delight to read; it's just that you have to slog through the swamp to get there. While suggesting we may have been thinking about cosmology all wrong, this is not a book which suggests either an immediate theoretical or experimental programme to explore these new ideas. Instead, it intends to plant the seed that, apart from time and causality, everything may be emergent, and that when we think about the early universe we cannot rely upon the fixed framework of our cooled-down universe with its regularities. Some of this is obvious and non-controversial: before there were atoms, there was no periodic table of the elements. But was there a time before there was conservation of energy, or before locality?
Posted at 23:06