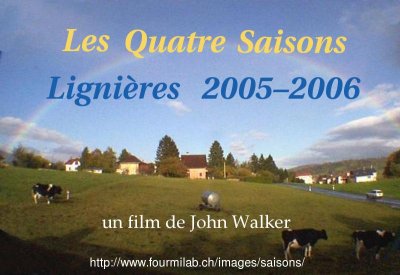 Jour par Jour
This document allows you to navigate Les Quatre Saisons day-by-day, frame-by-frame, as if on a Moviola. Click the image above to begin with the first day, or choose the start of a season from the list below, or a month or specific day from the calendar. Days which are not linked to frames are gap days on which no image was taken due to the various alarums of diversions of life in the Real World™.
Each page shows the full-resolution (800×549 pixel) frame as it appears in the movie. The resolution of the still images is slightly better than the frames in the movie since they have not been subjected to motion video compression. Each frame page contains navigation buttons at the top to step forward or backward one day, or return to this index. Each frame is labeled with the date, time, and frame number within the movie, and some frames contain "Did you notice?" annotations pointing out details or noting events such the equinox or solstice. Below each image, a hemisphere rendering from Earth and Moon Viewer, centred on Fourmilab's location, shows the sunlit and night portions of the Earth at the moment the photo was taken; note how the terminator creeps back and forth over the Arctic with the seasons. To its right is a full disc image from Meteosat-7 (courtesy of, and copyright © 2005–2006 by EUMETSAT) showing cloud cover at noon Universal Time on the day of the photo. Weather satellite imagery is unavailable for a few days, and in those cases an image from the closest adjacent day appears. Meteosat-7 is in a geostationary orbit above the equator at 0° longitude so Switzerland, at 47° North, is seen rather obliquely.
« Spring Summer Autumn Winter »
2005
2006

April
Mon
Tue
Wed
Thu
Fri
Sat
Sun
1
2
3
4
5
6
7
8
9
10
11
12
13
14
15
16
17
18
19
20
21
22
23
24
25
26
27
28
29
30
---


by John Walker
April, 2006


This document is in the public domain.