New and Improved
Last update: 18 August 2013

"What is the heaviest stable element?" This question, easily posed, is not so easy to answer. In fact, nobody knows. This document explores the stability of heavy elements, the difficulty of experimentally confirming theoretical predictions of very rare events, and elements whose half-lives are longer than the lives of all stars in the universe. In April 2013 I had the privilege of visiting CERN: the premier particle physics laboratory in the world. This photo essay shows some of the underground wonders of the largest and most complicated machine ever built by our species. We decided to celebrate our fortieth wedding anniversary by going South for the winter in January 2013. This being Fourmilab, no half measures would suffice short of going all the way—to the South Pole. We'd already been to the North Pole so, hey, we could become officially bipolar! This photo essay chronicles the expedition. Having been nearsighted and requiring strong optical correction all my life, I became accustomed ever since childhood to each eye exam calling for ever stronger glasses. I'd heard that the rate of change could be expected to decrease with age, but never that the trend could be reversed. Then, in 2000, I got separate reading and driving glasses, and found myself wearing the reading glasses almost all the time. Eight years later, it was obvious to me that the correction of both were too strong, and when I had my next eye exam in 2010, it showed the correction for both eyes was a full dioptre less. This document recounts my anecdotal experience and what it may mean for other nearsighted people. There are many disadvantages to being a balding geezer. In compensation, if you've managed to survive the second half of the twentieth century and been involved in computing, there's bearing personal witness to what happens when a technological transition goes into full-tilt exponential blow-off mode. I'm talking about Moore's Law—computing power available at constant cost doubling every 18 months or so. When Moore's Law is directly wired to your career and bank account, it's nice to have a little thermometer you can use to see how it's going as the years roll by. This page links to two benchmarks I've used to evaluate computer performance ever since 1980. They focus on things which matter dearly to me—floating point computation speed, evaluation of trigonometric functions, and matrix algebra. If you're interested in text searching or database retrieval speed, you should run screaming from these benchmarks. Hey, they work for me.

New September 2012 update adds Haskell to the C, FORTRAN, QBasic, Ada, Common Lisp, Java, JavaScript, Pascal, Perl, Python, Ruby, Smalltalk, and Visual Basic (6 and .NET) implementations of the original floating point benchmark, and includes a comparison of the relative performance of these languages.
Paleo Postings
This is a collection of postings from Fourmilog and documents on this site which relate to the paleo/primal/ancestral diet and lifestyle.
Book Reviews
Experience
Recipes
Nutritional Supplements
Most libertarians and conservatives have great respect for the rule of law and civil discourse. They're inclined to assume their opponents are well-intentioned adversaries with a different vision of how to better the general welfare. This is an error: they are not "liberals" or "progressives", but rather enemies of liberty and progress. This document explores why champions of liberty must defeat them and how that might be accomplished. Humans are omnivores and can eat a wide variety of food. However, modern diets which include refined and processed foods and too few fresh fruits and vegetables may result in shortages of "micro-nutrients" which can increase the probability of contracting a variety of diseases, reduce longevity, and impair mental and physical performance. This document presents the dietary supplements I have selected to avoid such problems. Every individual is different, and no single supplement plan is appropriate for everybody, so think of this list as a starting point for your own research into the topic. Legacy "mainstream" media outlets engage in numerous forms of bias to advance their assorted agendas. One of the most subtle is the selective use of "trigger words" which, due to indoctrination and repetition, evoke an emotional response in the audience which short-cuts rational judgement. Users of the Firefox browser can install these two Greasemonkey user scripts to highlight trigger words in documents they read on the Web, and automatically translate politically correct and slanted bafflegab to plain talk. New Red Meat edition eschews neutrality in favour of mockery of legacy media bias. This is a collection of "incidental photography" posted on Fourmilog and Twitter. Each photo in this graphical index is linked to a full-scale enlargement, and images from Fourmilog have captions which link to the original articles. In 1963, Analog was a large format monthly magazine, part slick and part pulp, with a cover price of 50 cents. Its eclectic readership and contents attracted some curious advertisements, such as this one from Leesona Moos Laboratories for aerospace devices self-powered by Krypton 85 nuclear batteries. How many Analog readers in 1963 assumed that in a couple of years there'd be nuclear flashlight batteries for sale at the hardware store? This one certainly did.
Gnome-o-grams
Gnome-o-grams are occasional postings from Fourmilog which focus on finance and investing from a preservation of capital perspective. These articles discuss both contemporary events and provide generally applicable background information. They are archived below.
Big Picture
Debt
Derivatives
Gold
Bailouts
Taxation
Trends and Indicators
Black Swan Events
Political Economy
Humour
Book Reviews
Recommended Articles at Other Web Sites
This time-lapse movie shows a year in the life of a Swiss village at the rate of one day every second. A hay-mow to the east of Fourmilab, agricultural land since the time of the Roman Empire, sprouts three houses as the year elapses. Complete photographic and movie production details are included, as well as an interactive frame-by-frame image browser. New November 2008 update includes an embedded Flash video edition, directly viewable from most contemporary browsers. The year is 1930. The stock market had crashed the previous October, but the impact of that event wasn't at all clear. Even as the golden age of radio was still building momentum toward creating the first continental scale shared popular culture, the preeminent vendors of the one-to-many connectivity technology of the epoch, AM radio, led their pitch with price. Direct from this distant epoch, here is the 1930 Allied Radio Catalogue. It starts slowly and somewhat tediously: the initial pages are obviously the same radio chassis sold in a variety of different cabinets, but it gets better when we get into the bits and pieces. There's even a half page devoted to components for bleeding-edge early adopters experimenting with mechanical scanning disc television! Between July 19th and August 6th, 2008 I was off to the North Pole—no, really—and thereafter to observe the total eclipse of the Sun on August 1st. So how do you get to the North Pole? Well, there's always the tedious dogsled method, but if you're in a hurry, nothing beats a Russian nuclear powered icebreaker. Here is a collection of images from the expedition, including the ship, landscapes, wildlife, and the eclipse.
No mule to feed.
No hands to pay.
You're farming now,
the modern way:
with dynamite!
This 1910 du Pont pamphlet (scanned from an original edition in the Fourmilab library) introduces farmers to the labour-saving wonders of that modern agricultural miracle, "Red Cross" Dynamite. The combination of an early Easter and a late snowstorm brought a White Easter to Lignières in March 2008. It started snowing on Good Friday, and continued to snow through the following Wednesday. If you didn't dye the Easter eggs, they were exceptionally easy to hide in the snowdrifts! Maybe we'll eventually find them when spring arrives. I put it down to ManBearPig. Nothing so instantly identifies the scribblings of intellectual knuckle-walkers as riotously funny misuse of the apostrophe. This humble punctuation mark has been the downfall not only of innumerable greengrocers, but also self-possessed self-published authors and pompous pundits. This document presents five easily-remembered rules which will keep you from tripping over the apostrophe in your own writing, and proclaims International Write Like a Moron Day to commemorate those who can't be bothered with such details. The "multiple worlds" interpretation of quantum mechanics has entered the mainstream of physics, especially among studies of the universe as a whole (quantum cosmology), the origins of physical law, and the apparent "fine-tuning" of physical constants which permit lifeforms like us to exist and speculate whence we came. This document, a work in progress, suggests a small modification to the multiple worlds interpretation which might explain many so-called "paranormal" phenomena, showing them as deterministic and unitary across the multiverse of possible futures yet open to perceived influence by conscious observers endowed with a weak ability to "navigate" their multiverse world-lines toward a future of their choice. Applications of this model to a variety of reported paranormal phenomena are presented. This document is a Google Maps application which shows overhead imagery of all of the sites of Autodesk's headquarters in California and the European Software Centre in Switzerland from the company's founding in 1982 through the present. The images are linked directly to the Google Maps server and can be panned and zoomed to explore the vicinity. This gallery contains a collection of photographs from the early days of Autodesk, including the presentation to prospective institutional investors in Autodesk's initial public stock offering (IPO) in 1985, trade show exhibits in 1984 and 1985, and the first use of AutoCAD (and perhaps of any CAD system) in underwater archaeology in 1984.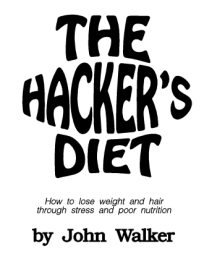 The Hacker's Diet: How to Lose Weight and Hair through Stress and Poor Nutrition book plus associated computer tools. You can read the book on-line on the World-Wide Web, or download a copy to read or print off-line in either PostScript or Adobe Acrobat PDF format. The WWW and Adobe Acrobat versions have hot-links for all table of contents items, cross-references, and index entries. A set of Excel spreadsheets which accompany the book (but are not necessary to use it) is also available for downloading, and the weight logging and management tools described in the book are also available for the Palm Computing Platform. New: Fourth Edition (2005) improves appearance, accessibility, and ease of navigation; it strictly complies with the XHTML 1.0 and CSS 2.1 standards.