Tuesday, May 14, 2013
Reading List: Escape from Camp 14
Harden, Blaine. Escape from Camp 14. New York: Viking Penguin, 2012. ISBN 978-0-14-312291-3.

Shin Dong-hyuk was born in a North Korean prison camp. The doctrine of that collectivist Hell-state, as enunciated by tyrant Kim Il Sung, is that "[E]nemies of class, whoever they are, their seed must be eliminated through three generations." Shin (I refer to him by his family name, as he prefers) committed no crime, but was born into slavery in a labour camp because his parents had been condemned to servitude there due to supposed offences. Shin grew up in an environment so anti-human it would send shivers of envy down the spines of Western environmentalists. In school, he saw a teacher beat a six-year-old classmate to death with a blackboard pointer because she had stolen and hidden five kernels of maize. He witnessed the hanging of his mother and the execution by firing squad of his brother because they were caught contemplating escape from the camp, and he felt only detestation of them because their actions would harm him. Shin was imprisoned and tortured due to association with his mother and brother, and assigned to work details where accidents which killed workers were routine. Shin accepted this as simply the way life was—he knew nothing of life outside the camp or in the world beyond his slave state. This changed when he made the acquaintance of Park Yong Chul, sent to the camp for some reason after a career which had allowed him to travel abroad and meet senior people in the North Korean ruling class. While working together in the camp's garment factory, Park introduced Shin to a wider world and set him to thinking about escaping the camp. The fact that Shin, who had been recruited to observe Park and inform upon any disloyalty he observed, instead began to conspire with him to escape the camp was the signal act of defiance against tyranny which changed Shin's life. Shin pulled off a harrowing escape from the camp which left him severely injured, lived by his wits crossing the barren countryside of North Korea, and made it across the border to China, where he worked as a menial farm hand and yet lived in luxury unheard of in North Korea. Raised in the camp, his expectations for human behaviour had nothing to do with the reality outside. As the author observes, "Freedom, in Shin's mind, was just another word for grilled meat." Freedom, beyond grilled meat, was something Shin found difficult to cope with. After making his way to South Korea (where the state has programs to integrate North Korean escapees into the society) and then the United States (where, as the only person born in a North Korean prison camp to ever escape, he was a celebrity among groups advocating for human rights in North Korea). But growing up in an intensely anti-human environment, cut off from all information about the outside world, makes it difficult to cope with normal human interactions and the flood of information those born into liberty consider normal. Much as with Nothing to Envy (September 2011), this book made my blood boil. It is not just the injustice visited upon Shin and all the prisoners of the regime who did not manage to escape, but those in our own societies who would condemn us to comparable servitude in the interest of a "higher good" as they define it.
Posted at 22:41

Sunday, May 12, 2013
My Trip to CERN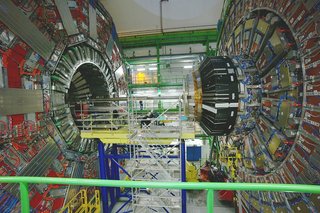 I have just posted a
photo essay
of my visit to CERN on April 22nd, 2013. Taking advantage of the long shutdown of the Large Hadron Collider to upgrade it to operate at its design centre of mass energy of 14 TeV, we were able to visit the underground detector halls of the CMS and ATLAS experiments and tour the Accelerator Technologies Laboratory where components of the LHC were developed and tested before being placed into service. I include photo tips for folks fortunate enough to visit CERN who wish to capture images of these colossal machines.
Posted at 21:35

Thursday, May 2, 2013
Reading List: The High Frontier
O'Neill, Gerard K. The High Frontier. Mojave, CA: Space Studies Institute, [1976, 1977, 1982, 1989] 2013. ISBN 978-0-688-03133-6.

In the tumultuous year of 1969, Prof. Gerard K. O'Neill of Princeton University was tapped to teach the large freshman physics course at that institution. To motivate talented students who might find the pace of the course tedious, he organised an informal seminar which would explore challenging topics to which the basic physics taught in the main course could be applied. For the first topic of the seminar he posed the question, "Is a planetary surface the right place for an expanding technological civilisation?". So fascinating were the results of investigating this question that the seminar never made it to the next topic, and working out its ramifications would occupy the rest of O'Neill's life. By 1974, O'Neill and his growing group of informal collaborators had come to believe not only that the answer to that 1969 question was a definitive "no", but that a large-scale expansion of the human presence into space, using the abundant energy and material resources available outside the Earth's gravity well was not a goal for the distant future but rather something which could be accomplished using only technologies already proved or expected in the next few years (such as the NASA's space shuttle, then under development). Further, the budget to bootstrap the settlement of space until the point at which the space settlements were self-sustaining and able to expand without further support was on the order of magnitude of the Apollo project and, unlike Apollo, would have an economic pay-off which would grow exponentially as space settlements proliferated. As O'Neill wrote, the world economy had just been hit by the first of what would be a series of "oil shocks", which would lead to a massive transfer of wealth from productive, developed economies to desert despotisms whose significance to the world economy and geopolitics would be precisely zero did they not happen to sit atop a pool of fuel (which they lacked the ability to discover and produce). He soon realised that the key to economic feasibility of space settlements was using them to construct solar power satellites to beam energy back to Earth. Solar power satellites are just barely economically viable if the material from which they are made must be launched from the Earth, and many design concepts assume a dramatic reduction in launch costs and super-lightweight structure and high efficiency solar cells for the satellites, which adds to their capital cost. O'Neill realised that the materials which make up around 99% of the mass of a solar power satellite are available on the Moon, and a space settlement, with access to lunar material at a small fraction of the cost of launching from Earth and the ability to fabricate the very large power satellite structures in weightlessness would reduce the cost of space solar power to well below electricity prices of the mid-1970s (which were much lower than those of today). In this book, a complete architecture is laid out, starting with initial settlements of "only" 10,000 people in a sphere about half a kilometre in diameter, rotating to provide Earth-normal gravity at the equator. This would be nothing like what one thinks of as a "space station": people would live in apartments at a density comparable to small towns on Earth, surrounded by vegetation and with a stream running around the equator of the sphere. Lunar material would provide radiation shielding and mirrors would provide sunlight and a normal cycle of day and night. This would be just a first step, with subsequent settlements much larger and with amenities equal to or exceeding those of Earth. Once access to the resources of asteroids (initially those in near-Earth or Earth-crossing orbits, and eventually the main belt) was opened, the space economy's reliance on the Earth would be only for settlers and lightweight, labour-intensive goods which made more sense to import. (For example, it might be some time before a space settlement built its own semiconductor fabrication facility rather than importing chips from those on Earth.) This is the future we could be living in today, but turned our backs upon. Having read this book shortly after it first came out, it is difficult to describe just how bracing this optimistic, expansive view of the future was in the 1970s, when everything was brown and the human prospect suddenly seemed constrained by limited resources, faltering prosperity, and shrinking personal liberty. The curious thing about re-reading it today is that almost nothing has changed. Forty years later, O'Neill's roadmap for the future is just as viable an option for a visionary society as it was when initially proposed, and technological progress and understanding of the space environment has only improved its plausibility. The International Space Station, although a multi-decade detour from true space settlements, provides a testbed where technologies for those settlements can be explored (for example, solar powered closed-cycle Brayton engines as an alternative to photovoltaics for power generation, and high-yield agricultural techniques in a closed-loop ecosystem). The re-appearance of this book in an electronic edition is timely, as O'Neill's ideas and the optimism for a better future they inspired seem almost forgotten today. Many people assume there was some technological flaw in his argument or that an economic show-stopper was discovered, yet none was. It was more like the reaction O'Neill encountered when he first tried to get his ideas into print in 1972. One reviewer, recommending against publication, wrote, "No one else is thinking in these terms, therefore the ideas must be wrong." Today, even space "visionaries" imagine establishing human settlements on the Moon, Mars, and among the asteroids, with space travel seen as a way to get to these destinations and sustain pioneer communities there. This is a vision akin to long sea voyages to settle distant lands. O'Neill's High Frontier is something very different and epochal: the expansion of a species which evolved on the surface of a planet into the space around it and eventually throughout the solar system, using the abundant solar energy and material resources available there. This is like life expanding from the sea where it originated onto the land. It is the next step in the human adventure, and it can begin, just as it could have in 1976, within a decade of a developed society committing to make it so. For some reason the Kindle edition, at least when viewed with the iPad Kindle application, displays with tiny type. I found I had to increase the font size by four steps to render it easily readable. Since font size is a global setting, that means than if you view another book, it shows up with giant letters like a first grade reader. The illustrations are dark and difficult to interpret in the Kindle edition—I do not recall whether this was also the case in the paperback edition I read many years ago.
Posted at 18:28

Sunday, April 28, 2013
Reading List: Merchants of Despair
Zubrin, Robert Merchants of Despair. New York: Encounter Books, 2012. ISBN 978-1-594-03476-3.

This is one of the most important paradigm-changing books since Jonah Goldberg's Liberal Fascism (January 2008). Zubrin seeks the common thread which unites radical environmentalism, eugenics, population control, and opposition to readily available means of controlling diseases due to hysteria engendered by overwrought prose in books written by people with no knowledge of the relevant science. Zubrin identifies the central thread of all of these malign belief systems: anti-humanism. In 1974, the Club of Rome, in Mankind at the Turning Point, wrote, "The world has cancer and the cancer is man." A foul synthesis of the ignorant speculations of Malthus and a misinterpretation of the work of Darwin led to a pernicious doctrine which asserted that an increasing human population would deplete a fixed pool of resources, leading to conflict and selection among a burgeoning population for those most able to secure the resources they needed to survive. But human history since the dawn of civilisation belies this. In fact, per capita income has grown as population has increased, demonstrating that the static model is bogus. Those who want to constrain the human potential are motivated by a quest for power, not a desire to seek the best outcome for the most people. The human condition has improved over time, and at an accelerating pace since the Industrial Revolution in the 19th century, because of human action: the creativity of humans in devising solutions to problems and ways to meet needs often unperceived before the inventions which soon became seen as essentials were made. Further, the effects of human invention in the modern age are cumulative: any at point in history humans have access to all the discoveries of the past and, once they build upon them to create a worthwhile innovation, it is rapidly diffused around the world—in our days at close to the speed of light. The result of this is that in advanced technological societies the poor, measured by income compared to the societal mean, would have been considered wealthy not just by the standards of the pre-industrial age, but compared to those same societies in the memory of people now alive. The truly poor in today's world are those whose societies, for various reasons, are not connected to the engine of technological progress and the social restructuring it inevitably engenders. And yet the anti-humanists have consistently argued for limiting the rate of growth of population and in many cases actually reducing the total population, applying a "precautionary principle" to investigation of new technologies and their deployment, and relinquishment of technologies deemed to be "unsustainable". In short, what they advocate is reversing the progress since the year 1800 (and in many ways, since the Enlightenment), and returning to an imagined bucolic existence (except for, one suspects, the masters in their gated communities, attended to by the serfs as in times of old). What Malthus and all of his followers to the present day missed is that the human population is not at all like the population of bacteria in a Petri dish or rabbits in the wild. Uniquely, humans invent things which improve their condition, create new resources by finding uses for natural materials previously regarded as "dirt", and by doing so allow a larger population to enjoy a standard of living much better than that of previous generations. Put aside the fanatics who wish to reduce the human population by 80% or 90% (they exist, they are frighteningly influential in policy-making circles, and they are called out by name here). Suppose, for a moment, the author asks, societies in the 19th century had listened to Malthus and limited the human population to half of the historical value. Thomas Edison and Louis Pasteur did work which contributed to the well-being of their contemporaries around the globe and continue to benefit us today. In a world with half as many people, perhaps only one would have ever lived. Which would you choose? But the influence of the anti-humans did not stop at theory. The book chronicles the sorry, often deceitful, and tragic consequences when their policies were put into action by coercive governments. The destruction wrought by "population control" measures approached, in some cases, the level of genocide. By 1975, almost one third of Puerto Rican women of childbearing age had been sterilised by programs funded by the U.S. federal government, and a similar program on Indian reservations sterilised one quarter of Native American women of childbearing age, often without consent. Every purebred woman of the Kaw tribe of Oklahoma was sterilised in the 1970s: if that isn't genocide, what is? If you look beneath the hood of radical environmentalism, you'll find anti-humanism driving much of the agenda. The introduction of DDT in the 1940s immediately began to put an end to the age-old scourge of malaria. Prior to World War II, between one and six million cases of malaria were reported in the U.S. every year. By 1952, application of DDT to the interior walls of houses (as well as other uses of the insecticide) had reduced the total number of confirmed cases of malaria that year to two. By the early 1960s, use of DDT had cut malaria rates in Asia and Latin America by 99%. By 1958, Malthusian anti-humanist Aldous Huxley decried this, arguing that "Quick death by malaria has been abolished; but life made miserable by undernourishment and over-crowding is now the rule, and slow death by outright starvation threatens ever greater numbers." Huxley did not have long to wait to see his desires fulfilled. After the publication of Rachel Carson's Silent Spring in 1962, a masterpiece of pseudoscientific deception and fraud, politicians around the world moved swiftly to ban DDT. In Sri Lanka, where malaria cases had been cut from a million or more per year to 17 in 1963, DDT was banned in 1964, and by 1969 malaria cases had increased to half a million a year. Today, DDT is banned or effectively banned in most countries, and the toll of unnecessary death due to malaria in Africa alone since the DDT ban is estimated as in excess of 100 million. Arguably, Rachel Carson and her followers are the greatest mass murderers of the 20th century. There is no credible scientific evidence whatsoever that DDT is harmful to humans and other mammals, birds, reptiles, or oceanic species. To the anti-humanists, the carnage wrought by the banning of this substance is a feature, not a bug. If you thought Agenda 21 (November 2012) was over the top, this volume will acquaint you with the real-world evil wrought by anti-humanists, and their very real agenda to exterminate a large fraction of the human population and reduce the rest (except for themselves, of course, they believe) to pre-industrial serfdom. As the author concludes:

If the idea is accepted that the world's resources are fixed with only so much to go around, then each new life is unwelcome, each unregulated act or thought is a menace, every person is fundamentally the enemy of every other person, and each race or nation is the enemy of every other race of nation. The ultimate outcome of such a worldview can only be enforced stagnation, tyranny, war, and genocide.

This is a book which should have an impact, for the better, as great as Silent Spring had for the worse. But so deep is the infiltration of the anti-human ideologues into the cultural institutions that you'll probably never hear it mentioned except here and in similar venues which cherish individual liberty and prosperity.
Posted at 17:35

Saturday, April 20, 2013
Reading List: Quantum Man
Krauss, Lawrence. Quantum Man. New York: W. W. Norton, 2011. ISBN 978-0-393-34065-5.

A great deal has been written about the life, career, and antics of Richard Feynman, but until the present book there was not a proper scientific biography of his work in physics and its significance in the field and consequences for subsequent research. Lawrence Krauss has masterfully remedied this lacuna with this work, which provides, at a level comprehensible to the intelligent layman, both a survey of Feynman's work, both successful and not, and also a sense of how Feynman achieved what he did and what ultimately motivated him in his often lonely quest to understand. One often-neglected contributor to Feynman's success is discussed at length: his extraordinary skill in mathematical computation, intuitive sense of the best way to proceed toward a solution (he would often skip several intermediate steps and only fill them in when preparing work for publication), and tireless perseverance in performing daunting calculations which occupied page after page of forbidding equations. This talent was quickly recognised by those with whom he worked, and as one of the most junior physicists on the project, he was placed in charge of all computation at Los Alamos during the final phases of the Manhattan Project. Eugene Wigner said of Feynman, "He's another Dirac. Only this time human." Feynman's intuition and computational prowess was best demonstrated by his work on quantum electrodynamics, for which he shared a Nobel prize in 1965. (Initially Feynman didn't think too much of this work—he considered it mathematical mumbo-jumbo which swept the infinities which had plagued earlier attempts at a relativistic quantum theory of light and matter under the carpet. Only later did it become apparent that Feynman's work had laid the foundation upon which a comprehensive quantum field theory of the strong and electroweak interactions could be built.) His invention of Feynman diagrams defined the language now universally used by particle physicists to describe events in which particles interact. Feynman was driven to understand things, and to him understanding meant being able to derive a phenomenon from first principles. Often he ignored the work of others and proceeded on his own, reinventing as he went. In numerous cases, he created new techniques and provided alternative ways of looking at a problem which provided a deeper insight into its fundamentals. A monumental illustration of Feynman's ability to do this is The Feynman Lectures on Physics, based on an undergraduate course in physics Feynman taught at Caltech in 1961–1964. Few physicists would have had the audacity to reformulate all of basic physics, from vectors and statics to quantum mechanics from scratch, and probably only Feynman could have pulled it off, which he did magnificently. As undergraduate pedagogy, the course was less than successful, but the transcribed lectures have remained in print ever since, and working physicists (and even humble engineers like me) are astounded at the insights to be had in reading and re-reading Feynman's work. Even when Feynman failed, he failed gloriously and left behind work that continues to inspire. His unsuccessful attempt to find a quantum theory of gravitation showed that Einstein's geometric theory was completely equivalent to a field theory developed from first principles and knowledge of the properties of gravity. Feynman's foray into computation produced the Feynman Lectures On Computation, one of the first comprehensive expositions of the theory of quantum computation. A chapter is devoted to the predictions of Feynman's 1959 lecture, "Plenty of Room at the Bottom", which is rightly viewed as the founding document of molecular nanotechnology, but, as Krauss describes, also contained the seeds of genomic biotechnology, ultra-dense data storage, and quantum material engineering. Work resulting in more than fifteen subsequent Nobel prizes is suggested in this blueprint for research. Although Feynman would go on to win his own Nobel for other work, one gets the sense he couldn't care less that others pursued the lines of investigation he sketched and were rewarded for doing so. Feynman was in the game to understand, and often didn't seem to care whether what he was pursuing was of great importance or mundane, or whether the problem he was working on from his own unique point of departure had already been solved by others long before. Feynman was such a curious character that his larger than life personality often obscures his greatness as a scientist. This book does an excellent job of restoring that balance and showing how much his work contributed to the edifice of science in the 20th century and beyond.
Posted at 23:12

Wednesday, April 17, 2013
Reading List: Fiat Money Inflation in France
White, Andrew Dickson. Fiat Money Inflation in France. Bayonne, NJ: Blackbird Books, [1876, 1896, 1912, 1914] 2011. ISBN 978-1-61053-004-0.

One of the most sure ways to destroy the economy, wealth, and morals of a society is monetary inflation: an inexorable and accelerating increase in the supply of money, which inevitably (if not always immediately) leads to ever-rising prices, collapse in saving and productive investment, and pauperisation of the working classes in favour of speculators and those with connections to the regime issuing the money. In ancient times, debasement of the currency was accomplished by clipping coins or reducing their content of precious metal. Ever since Marco Polo returned from China with news of the tremendous innovation of paper money, unbacked paper currency (or fiat money) has been the vehicle of choice for states to loot their productive and thrifty citizens. Between 1789 and 1796, a period encompassing the French Revolution, the French National Assembly issued assignats, paper putatively backed by the value of public lands seized from the Roman Catholic Church in the revolution. Assignats could theoretically be used to purchase these lands, and initially paid interest—they were thus a hybrid between a currency and a bond. The initial issue revived the French economy and rescued the state from bankruptcy but, as always happens, was followed by a second, third, and then a multitude of subsequent issues totally decoupled from the value of the land which was supposed to back them. This sparked an inflationary and eventually hyperinflationary spiral with savers wiped out, manufacturing and commerce grinding to a halt (due to uncertainty, inability to invest, and supply shortages) which caused wages to stagnate even as prices were running away to the upside, an enormous transfer of wealth from the general citizenry to speculators and well-connected bankers, and rampant corruption within the political class. The sequelæ of monetary debasement all played out as they always have and always will: wage and price controls, shortages, rationing, a rush to convert paper money into tangible assets as quickly as possible, capital and foreign exchange controls, prohibition on the ownership of precious metals and their confiscation, and a one-off "wealth tax" until the second, and the third, and so on. Then there was the inevitable replacement of the discredited assignats with a new paper currency, the mandats, which rapidly blew up. Then came Napoleon, who restored precious metal currency; hyperinflation so often ends up with a dictator in power. What is remarkable about this episode is that it happened in a country which had experienced the disastrous John Law paper money bubble in 1716–1718, within the living memory of some in the assignat era and certainly in the minds of the geniuses who decided to try paper money again because "this time is different". When it comes to paper money, this time is never different. This short book (or long pamphlet—the 1896 edition is just 92 pages) was originally written in 1876 by the author, a president of Cornell University, as a cautionary tale against advocates of paper money and free silver in the United States. It was subsequently revised and republished on each occasion the U.S. veered further toward unbacked or "elastic" paper money. It remains one of the most straightforward accounts of a hyperinflationary episode ever written, with extensive citations of original sources. For a more detailed account of the Weimar Republic inflation in 1920s Germany, see When Money Dies (May 2011); although the circumstances were very different, the similarities will be apparent, confirming that the laws of economics manifest here are natural laws just as much as gravitation and electromagnetism, and ignoring them never ends well. If you are looking for a Kindle edition of this book, be sure to download a free sample of the book before purchasing. As the original editions of this work are in the public domain, anybody is free to produce an electronic edition, and there are some hideous ones available; look before you buy.
Posted at 22:05

Wednesday, April 10, 2013
Reading List: Bargaining Position
Bussjaeger, Carl. Bargaining Position. Lyndeborough, NH: http://www.bussjaeger.us/, [2010] 2011.

In Net Assets (October 2002) the author chronicled the breakout of lovers of liberty from the Earth's gravity well by a variety of individual initiatives and their defeat of the forces of coercive government which wished to keep them in chains. In this sequel, set in the mid-21st century, the expansion into the solar system is entirely an economy of consensual actors, some ethical and some rogue, but all having escaped the shackles of the state, left to stew in its own stagnating juices on Earth. The Hunters are an amorous couple who have spent the last decade on their prospecting ship, Improbable, staking claims in the asteroid belt and either working them or selling the larger ones to production companies. After a successful strike, they decide to take a working vacation exploring Jupiter's leading Trojan position. At this Lagrangian point the equilibrium between the gravity of Jupiter and the Sun creates a family of stable orbits around that point. The Trojan position can be thought of as an attractor toward which objects in similar orbits will approach and remain. The Hunters figure that region, little-explored, might collect all kinds of interesting and potentially lucrative objects, and finance their expedition with a contract to produce a documentary about their voyage of exploration. What they discover exceeds anything they imagined to find: what appears to be an alien interstellar probe, disabled by an impact after arrival in the solar system, but with most of its systems and advanced technology intact. This being not only an epochal discovery in human history, but valuable beyond the dreams of avarice, the Hunters set out to monetise the discovery, protect it against claim jumpers, and discover as much as they can to increase the value of what they've found to potential purchasers. What they discover makes the bargaining process even more complicated and with much higher stakes. This is a tremendous story, and I can't go any further describing it without venturing into spoiler territory, which would desecrate this delightful novel. The book is available from the author's Web site as a free PDF download; use your favourite PDF reader application on your computer or mobile device to read it. As in common in self-published works, there are a number of copy-editing errors: I noted a total of 25 and I was reading for enjoyment, not doing a close-proof. None of them detract in any way from the story.
Posted at 23:12

Sunday, March 31, 2013
Reading List: Colossus
Copeland, B. Jack, ed. Colossus. Oxford: Oxford University Press, 2006. ISBN 978-0-19-953680-1.

During World War II the British codebreakers at Bletchley Park provided intelligence to senior political officials and military commanders which was vital in winning the Battle of the Atlantic and discerning German strategic intentions in the build-up to the invasion of France and the subsequent campaign in Europe. Breaking the German codes was just barely on the edge of possibility with the technology of the time, and required recruiting a cadre of exceptionally talented and often highly eccentric individuals and creating tools which laid the foundations for modern computer technology. At the end of the war, all of the work of the codebreakers remained under the seal of secrecy: in Winston Churchill's history of the war it was never mentioned. Part of this was due to the inertia of the state to relinquish its control over information, but also because the Soviets, emerging as the new adversary, might adopt some of the same cryptographic techniques used by the Germans and concealing that they had been compromised might yield valuable information from intercepts of Soviet communications. As early as the 1960s, publications in the United States began to describe the exploits of the codebreakers, and gave the mistaken impression that U.S. codebreakers were in the vanguard simply because they were the only ones allowed to talk about their wartime work. The heavy hand of the Official Secrets Act suppressed free discussion of the work at Bletchley Park until June 2000, when the key report, written in 1945, was allowed to be published. Now it can be told. Fortunately, many of the participants in the work at Bletchley were young and still around when finally permitted to discuss their exploits. This volume is largely a collection of their recollections, many in great technical detail. You will finally understand precisely which vulnerabilities of the German cryptosystems permitted them to be broken (as is often the case, it was all-too-clever innovations by the designers intended to make the encryption "unbreakable" which provided the door into it for the codebreakers) and how sloppy key discipline among users facilitated decryption. For example, it was common to discover two or more messages encrypted with the same key. Since encryption was done by a binary exclusive or (XOR) of the bits of the Baudot teleprinter code, with that of the key (generated mechanically from a specified starting position of the code machine's wheels), if you have two messages encrypted with the same key, you can XOR them together, taking out the key and leaving you with the XOR of the plaintext of the two messages. This, of course, will be gibberish, but you can then take common words and phrases which occur in messages and "slide" them along the text, XORing as you go, to see if the result makes sense. If it does, you've recovered part of the other message, and by XORing with either message, that part of the key. This is something one could do in microseconds today with the simplest of computer programs, but in the day was done in kiloseconds by clerks looking up the XOR of Baudot codes in tables one by one (at least until they memorised them, which the better ones did). The chapters are written by people with expertise in the topic discussed, many of whom were there. The people at Bletchley had to make up the terminology for the unprecedented things they were doing as they did it. Due to the veil of secrecy dropped over their work, many of their terms were orphaned. What we call "bits" they called "pulses", "binary addition" XOR, and ones and zeroes of binary notation crosses and dots. It is all very quaint and delightful, and used in most of these documents. After reading this book you will understand precisely how the German codes were broken, what Colossus did, how it was built and what challenges were overcome in constructing it, and how it was integrated into a system incorporating large numbers of intuitive humans able to deliver near-real-time intelligence to decision makers. The level of detail may be intimidating to some, but for the first time it's all there. I have never before read any description of the key flaw in the Lorenz cipher which Colossus exploited and how it processed messages punched on loops of paper tape to break into them and recover the key. The aftermath of Bletchley was interesting. All of the participants were sworn to secrecy and all of their publications kept under high security. But the know-how they had developed in electronic computation was their own, and many of them went to Manchester to develop the pioneering digital computers developed there. The developers of much of this technology could not speak of whence it came, and until recent years the history of computing has been disconnected from its roots. As a collection of essays, this book is uneven and occasionally repetitive. But it is authentic, and an essential document for anybody interested in how codebreaking was done in World War II and how electronic computation came to be.
Posted at 23:46

Friday, March 29, 2013
Reading List: A Time for War
Savage, Michael [Michael Alan Weiner]. A Time for War. New York: St. Martin's Press, 2013. ISBN 978-0-312-65162-6.

The author, a popular talk radio host who is also a Ph.D. in nutritional ethnomedicine and has published numerous books under his own name, is best known for his political works, four of which have made the New York Times bestseller list including one which reached the top of that list. This is his second foray into the fictional thriller genre, adopting a style reminiscent of Rudy Rucker's transrealism, in which the author, or a character closely modelled upon him or her, is the protagonist in the story. In this novel, Jack Hatfield is a San Francisco-based journalist dedicated to digging out the truth and getting it to the public by whatever means available, immersed in the quirky North Beach culture of San Francisco, and banned in Britain for daring to transgress the speech codes of that once-free nation. Sound familiar? After saving his beloved San Francisco from an existential threat in the first novel, Abuse of Power (June 2012), Hatfield's profile on the national stage has become higher than ever, but that hasn't helped him get back into the media game, where his propensity for telling the truth without regard to political correctness or offending the perennially thin-skinned makes him radioactive to mainstream outlets. He manages to support himself as a free-lance investigative reporter, working from his boat in a Sausalito marina, producing and selling stories to venues willing to run them. When a Chinook helicopter goes down in a remote valley in Afghanistan killing all 39 on board and investigators attribute the crash to total failure of all electronics on board with no evidence of enemy action, Jack's ears perk up. When he later learns of an FBI vehicle performing a routine tail of a car from the Chinese consulate being disabled by "total electronic failure" he begins to get really interested. Then strange things begin to happen in Chinatown, prompting Jack to start looking for a China connection between these incidents. Meanwhile, Dover Griffith, a junior analyst at the Office of Naval Intelligence, is making other connections. She recalled that a proposed wireless Internet broadband system developed by billionaire industrialist Richard Hawke's company had to be abandoned when it was discovered its signal could induce catastrophic electrical failure in aircraft electronics. (Clearly Savage is well-acquainted with the sorry history of LightSquared and GPS interference!) When she begins to follow the trail, she is hauled into her boss's office and informed she is being placed on "open-ended unpaid furlough": civil service speak for being fired. Clearly Hawke has plenty of pull in high places and probably something to hide. Since Hatfield had been all over the story of interference caused by the broadband system and the political battle over whether to deploy it, she decides to fly to California and join forces with Hatfield to discover what is really going on. As they, along with Jack's associates, begin to peel away layer after layer of the enigma, they begin to suspect that something even more sinister may be underway. This is a thoroughly satisfying thriller. There is a great deal of technical detail, all meticulously researched. There are a few dubious aspects of some of the gadgets, but that's pretty much a given in the thriller genre. What distinguishes these novels from other high-profile thrillers is that Jack Hatfield isn't a superhero in the sense of Vince Flynn's Mitch Rapp or Brad Thor's Scot Harvath: he is a largely washed-up journalist, divorced, living on a boat with a toy poodle, hanging out with a bunch of eccentric characters at an Italian restaurant in North Beach, who far from gunplay and derring-do, repairs watches for relaxation. This makes for a different kind of thriller, but one which is no less satisfying. I'm sure Jack Hatfield will be back, and I'm looking forward to the next outing. You can read this novel as a stand-alone thriller without having first read Abuse of Power, but be warned that it contains major plot spoilers for the first novel; to fully enjoy them both, it's best to start there.
Posted at 18:04

Wednesday, March 27, 2013
Reading List: The Vatican Diaries
Thavis, John. The Vatican Diaries. New York: Viking, 2013. ISBN 978-0-670-02671-5.

Jerry Pournelle's Iron Law of Bureaucracy states that:

…in any bureaucratic organization there will be two kinds of people: those who work to further the actual goals of the organization, and those who work for the organization itself. Examples in education would be teachers who work and sacrifice to teach children, vs. union representatives who work to protect any teacher including the most incompetent. The Iron Law states that in all cases, the second type of person will always gain control of the organization, and will always write the rules under which the organization functions.

Imagine a bureaucracy in which the Iron Law has been working inexorably since the Roman Empire. The author has covered the Vatican for the Catholic News Service for the last thirty years. He has travelled with popes and other Vatican officials to more than sixty countries and, developing his own sources within a Vatican which is simultaneously opaque to an almost medieval level in its public face, yet leaks like a sieve as factions try to enlist journalists in advancing their agendas. In this book he uses his access to provide a candid look inside the Vatican, at a time when the church is in transition and crisis. He begins with a peek inside the mechanics of the conclave which chose Pope Benedict XVI: from how the black or white smoke is made to how the message indicating the selection of a new pontiff is communicated (or not) to the person responsible for ringing the bell to announce the event to the crowds thronging St Peter's Square. There is a great deal of description, bordering on gonzo, of the reality of covering papal visits to various countries: in summary, much of what you read from reporters accredited to the Vatican comes from their watching events on television, just as you can do yourself. The author does not shy from controversy. He digs deeply into the sexual abuse scandals and cover-up which rocked the church, the revelations about the founder of the Legion of Christ, the struggle between then traditionalists of the Society of St Pius X and supporters of the Vatican II reforms in Rome, and the battle over the beatification of Pope Pius XII. On the lighter side, we encounter the custodians of Latin, including the Vatican Bank ATM which displays its instructions in Latin: "Inserito scidulam quaeso ut faciundum cognoscas rationem". This is an enlightening look inside one of the most influential, yet least understood, institutions in what remains of Western civilisation. On the event of the announcement of the selection of Pope Francis, James Lileks wrote:

…if you'd turned the sound down on the set and shown the picture to Julius Cæsar, he would have smiled broadly. For the wrong reasons, of course—his order did not survive in its specific shape, but in another sense it did. The architecture, the crowds, the unveiling would have been unmistakable to someone from Cæsar's time. They would have known exactly what was going on.

Indeed—the Vatican gets ceremony. What is clear from this book is that it doesn't get public relations in an age where the dissemination of information cannot be controlled, and that words, once spoken, cannot be taken back, even if a "revised and updated" transcript of them is issued subsequently by the bureaucracy. In the Kindle edition the index cites page numbers in the hardcover print edition which are completely useless since the Kindle edition does not contain real page numbers.
Posted at 22:56