« August 2007 | Main | October 2007 »
Thursday, September 27, 2007
Reading List: Future Jihad
Posted at 23:38

Saturday, September 22, 2007
Lignières: When the Cows Come Home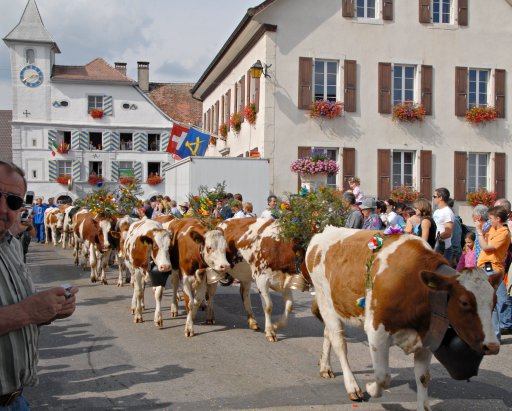 When you live in
Lignières
, you have to be careful about using the expression "when the cows come home" because, at the end of September every year,
they do
. The occasion is the
Désalpe de Lignières
, which this year celebrated its 32nd anniversary. The weather was gorgeous, as it always is—
wishing makes it so
! The highlight of the day is the
cortège
, in which cows, goats, sheep, horses, marching bands, whippersnappers, and tractor-pulled floats traverse the village. This is so much fun we do it
twice
: the parade makes two loops past the crowd. This year the Ski-Club made an enormous float including a wooden ski jump down which decidedly un-risk-averse members would
ski or snowboard
, coming, they hoped, to a soft and upright landing on the unforgiving pavement, which had already been liberally lubricated by
dielectric material
deposited by the cows preceding them in the parade. Click the image above for a
gallery
of images from this year's Désalpe. All of these images were taken with a Nikon D200 digital SLR with an 18–200 mm VR zoom lens (almost all at the wide angle limit) in "full auto" mode. These images are in the public domain.
Posted at 21:20

Thursday, September 20, 2007
SubMarie's: Taste-testing Results and New Recipes Posted
I have just posted an update to the
SubMarie's
"open sauce" project, which seeks to reverse-engineer a recipe equivalent to Marie's® Blue Cheese salad dressing. This update, which incorporates information reported in preliminary form in this chronicle
here
and
here
, describes comparison taste-testing against the Real Thing and supplies two additional recipes which, I believe, converge more closely toward the desired flavour. As always, you're invited to experiment on your own and report the results, whether yummy or yucky, via the feedback button.
Posted at 21:15

Tuesday, September 18, 2007
Arrrr! Be ye ready matey?
(Guest post by Iron Jack Rackham)
Tomorrow, September 19th, is
International Talk Like A Pirate Day
—are you ready? Avast the foremast! Scupper the binnacle! Belay that bilge pump! Keelhaul the captain (no—wait)! Here is a
special keyboard
ideal for sending messages to your buccaneer fleet, and a
handy translator
from English to pirate-speak.
What's your pirate name?
Posted at 03:30

Monday, September 17, 2007
Reading List: Degrees Kelvin
Posted at 23:01

Sunday, September 16, 2007
Floating Point Benchmark: Pascal Language Added
I have been intending to add Pascal to the languages in which my trigonometry-intense
floating point benchmark
is implemented, and the recent release of version 2.2.0 of the
Free Pascal Compiler
provided the impetus to get started on the project. A new release of the
benchmark collection
including Pascal is now available for downloading. Three different editions are available for the "Classic" Pascal (
ISO 7185:1990
), Extended Pascal (
ISO 10206:1990
), and Pascal with Borland extensions dialects of the language. Other than changes in identifier names which do not affect generated code, there are no differences whatsoever among these editions in the actual code comprising the timed benchmark; only non-timed initialisation code is affected. All editions have been compiled without errors or warnings and tested to produce the correct results on both
Free Pascal Compiler 2.2.0
and
GNU Pascal 2.1
. The language relative performance table including results for these two Pascal compilers is as follows.
Language
Relative
Time
Details
C
1
GCC 3.2.3 -O3, Linux
Visual Basic .NET
0.866
All optimisations, Windows XP
FORTRAN
1.008
GNU Fortran (g77) 3.2.3 -O3, Linux
Pascal
1.027
1.077
Free Pascal 2.2.0 -O3, Linux
GNU Pascal 2.1 (GCC 2.95.2) -O3, Linux
Java
1.121
Sun JDK 1.5.0_04-b05, Linux
Visual Basic 6
1.132
All optimisations, Windows XP
Ada
1.401
GNAT/GCC 3.4.4 -O3, Linux
Lisp
7.41
19.8
GNU Common Lisp 2.6.7, Compiled, Linux
GNU Common Lisp 2.6.7, Interpreted
Python
17.6
Python 2.3.3 -OO, Linux
Perl
23.6
Perl v5.8.0, Linux
Ruby
26.1
Ruby 1.8.3, Linux
JavaScript
27.6
39.1
46.9
Opera 8.0, Linux
Internet Explorer 6.0.2900, Windows XP
Mozilla Firefox 1.0.6, Linux
QBasic
148.3
MS-DOS QBasic 1.1, Windows XP Console
In comparing the two Pascal compilers, please note that while the Free Pascal Compiler release tested dates from less than a week ago, GNU Pascal 2.1, the current stable version, was released in May 2002, and the current Linux binary download was built with GCC core version 2.95.2 dating from 1999. It is entirely possible that building GNU Pascal with a more modern GCC back-end will make up the small (about 5%) speed disadvantage compared to Free Pascal, and possibly approach the GCC benchmarks for C and FORTRAN.
Posted at 20:13

Monday, September 10, 2007
Reading List: A Tale of Two Cities
Posted at 00:34

Sunday, September 9, 2007
The Hacker's Diet Online: 1000+ accounts open
The night of September 8–9, the thousandth user account on
The Hacker's Diet Online
was created; at this writing there are 1010 accounts open. As with many free resources on the Web, a substantial number of people create accounts, play with them a little, and then move on to something else, abandoning the account. Of the total of 1010 accounts, 583 (58%) are "active", defined as having a weight log entry made in the last 30 days. A total of 321 accounts have opted to make their data
visible to the public
under an automatically-assigned pseudonym. Among these public accounts, 221, or 69% are active. More than 50% of active accounts have updated their weight log within the last seven days, and 38% within the last two days. The mean weight loss across all active accounts is 0.33 kilograms (0.73 pounds) per week, equating to a daily deficit of 359 calories. This isn't necessarily representative of people intending to reduce their weight, as the user base includes people who have already reached their chosen target weight and are using the application to maintain it, as described in the
Perfect Weight Forever
chapter of
the book
. On September 8th, the server farm processed a total of 1692 Hacker's Diet
Online
transactions; note that an update to a monthly log, the most common operation, generates two transactions: one for the updated log page and one for the chart image embedded in it. For the month of September to date, Hacker's Diet
Online
transactions are in 17th place by frequency of request to the site. The cluster file system synchronisation mechanism, after a
fix for a recent hiccup
, continues to run smoothly. For full details of changes to the application, visit the
Development Log
, which consists of extracts from the log embedded in the
source code

So far, only 24 users have availed themselves of the
Web badge
facility. This allows the user to configure a dynamically generated image showing their current weight and trend progress (over a user-selected period ranging from one week to one year), in the user's preferred weight and energy units. The badge is automatically updated whenever the user makes a log entry, and when the badge is configured the user is provided with HTML which may be pasted into a Web page or Web log to display the badge to visitors.
Posted at 14:44

Friday, September 7, 2007
Reading List: The Infinite Book
Posted at 21:55

Wednesday, September 5, 2007
Weather: Down-to-Earth Rainbow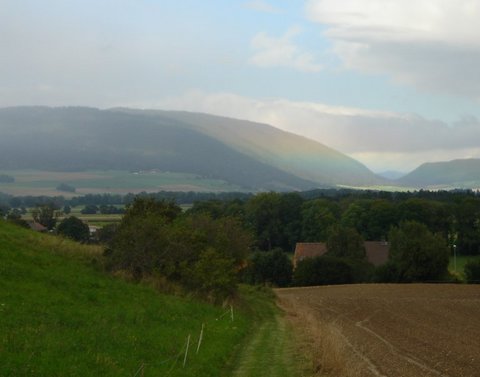 Click image for an enlargement.
On my walk around the
village
yesterday, I observed an atmospheric phenomenon I can't recall having ever seen before. The sky was partly cloudy, with fog and mist in certain locations. Looking to the northeast, in the direction of the town of Diesse, a forested hillside in the distance was painted with the colours of the rainbow. No rainbow was apparent in the sky, and there was no observable curvature of the visible segment. I originally thought of calling this a "fogbow", but that is an
entirely different phenomenon
—the fact that colour was apparent means that the water droplets must have been larger than those in fog, but it didn't appear to be raining in that vicinity, so I thought of calling it a "mist-bow" (even though it doesn't bow), but doggone if Minnaert's
The Nature of Light and Colour in the Open Air
doesn't use
that
word for something else! So, I guess I'll leave it unnamed for now. Named or not, it was a very pretty effect.
Posted at 14:59

Monday, September 3, 2007
Fourmilab: A Botnet Comes Knocking
Here in the
Internet slum
, you never know who or what's going to be knocking on your door. Starting on September 1st, 2007, a multi-thousand site "botnet" (collection of Microsoft Windows machines infected with software which allows them to be remote-controlled and used to send junk mail or mount distributed denial of service [DDoS] attacks against sites) has sporadically been attacking Fourmilab, to what end I haven't the slightest clue. Each attack begins suddenly, with thousands of IP addresses, distributed around the world, pumping in rapid-fire requests for the site's home page (which is just a
Frameset
container for the front page). They never request any other page, and the HTTP
User-Agent
and
Referer
fields in the Apache Web server log both show up as just "
-
". Each individual attack lasts for about fifteen minutes, and ends as abruptly as it began, with a few straggling packets arriving up to a minute later. There have been a total of six of these attacks so far:
Date
Start time
End time
2007-09-01
12:21:09
12:37:59
2007-09-02
00:13:10
00:27:00
12:38:12
12:53:34
14:45:11
15:01:36
2007-09-03
00:13:12
00:26:12
06:18:12
06:22:25
All times in this table are UTC (Greenwich Mean Time). The last attack was shorter in duration and less intense than those which preceded it; I hope that's a sign that whoever's responsible has found something else to amuse their nihilist inner child.
| Domain | Sites | Hits |
| --- | --- | --- |
| pl | 1425 | 33576 |
| net | 608 | 14399 |
| com | 221 | 4922 |
| de | 126 | 2825 |
| ru | 110 | 2633 |
| tr | 100 | 2323 |
| br | 49 | 1081 |
| au | 37 | 848 |
| fr | 35 | 870 |
| nl | 34 | 1077 |
Taking the attack which began at 12:38 UTC on 2007-09-02 as an example, in that 15 minute period a total of 92,001 requests for the home page were received from a total of 3,910 distinct IP addresses. Attack packets were arriving at a rate in excess of 100 per second—had the attack been sustained for an entire day, this would amount to 8.6 million Web requests, as opposed to the
average of around 600,000
. Of the addresses which were resolvable into fully qualified domain names, the ten top level domains from which packets originated were as given in the table at the right. I was surprised by the apparently disproportionate representation of Poland, but apparently that country is a
hotbed of botnet infection
, along with Germany, Turkey, Brazil, and France, which also figure in the top ten. I was surprised not to have received a single packet from a site in Korea, as it is frequently mentioned as botnet heaven, with its ubiquitous broadband and overwhelmingly Windows market penetration, but note that IP addresses which did not resolve (a total of 651) were excluded from this analysis. Almost all resolved IP addresses were typical home user broadband accounts. After the second attack on September 2nd, I added a signature to Fourmilab's
Gardol
attack mitigation tool, developed during the first great
distributed denial of service attack
in January–April 2004. This reduced the impact of the attack on the site's outbound bandwidth (the principal scarce resource) to negligible levels. Once an attacking host has been blocked, packets simply "bounce off" the server farm without ever being processed. Since Fourmilab has a 2 Mbit/sec symmetrical Internet connection on which more than 90% of the traffic is outbound, the inbound attack packets do not measurably degrade response time for legitimate requests.
Posted at 20:29

Saturday, September 1, 2007
Reading List: One Perfect Day
Posted at 23:27