« March 2006 | Main | May 2006 »
Saturday, April 29, 2006
Les Quatre Saisons: One Year Time-Lapse Movie Posted
After a year of photography and almost a month of post-production, I have posted
Les Quatre Saisons
, a time-lapse movie created by taking a photograph every day (with a few gaps due to this and that) from an east-facing window of the Fourmilab conference room which, at the start of the project in March 2005, looked upon a hay-mow that has been agricultural land since the Roman Empire, but went and sprouted three new houses in the last twelvemonth. Each season of the year is set to an excerpt from Vivaldi's The Four Seasons, custom arranged from a MIDI sequence for this film. A tremendous amount of detail is captured in these images as the seasons change, the weather flaunts its fickleness, plants flower, flourish, and finally fade, and the relentless process of urbanisation continues. If you spot something interesting in the movie and want to look closer, you can visit
Les Quatre Saisons: Jour par Jour
, a Web document tree which lets you explore all of the individual frames of the movie as high-quality JPEG images with information about the circumstances (illumination and weather) on the day the frame was photographed. The main document contains a complete description of the production of the movie, a link to download the custom Perl programs used to produce it, and links to all of the software tools used in the process. No proprietary software was used in the creation of this movie. The full movie is 37 Mb, so if you don't have a fast Internet connection you should give it a miss; if you're curious, you can still explore the single-frame edition. Because of the potential a file of this size has for eating my own Internet connection alive should somebody post a link to it on a public discussion board or, even worse, use it in a distributed denial of service attack, this time I'm trying something different with the hosting. While the links above and the single frame edition are served from my Web server as usual, I have placed the movie in the public domain and contributed it to the collection of the
Internet Archive
where it is hosted on
this page
. When you click the download link for the movie you're getting it from there, not here. The process of uploading the film was reasonably painless, although be very careful if your metadata contains ISO-8859 characters: it appears that if you use the browser's "Back" button, they can get accidentally transformed into UTF-8, mangling every accented letter. This may, of course, be specific to my configuration or just my customary luck with such things.
Posted at 02:06

Wednesday, April 26, 2006
Reading List: Second Stage Lensmen
Posted at 23:45

Tuesday, April 25, 2006
Fourmilab: HotBits Secure Server Request Form Now Delivered Via HTTPS
When I recently implemented
secure HotBits requests
via the
https:
protocol, I did not use HTTPS in the link to the
secure request form
from the
main HotBits page
. I figured that since nothing in that page was secure, there wasn't any reason to burden the server by requesting it with HTTPS; the random data would be requested and returned securely, and that's what mattered. Well, as is usually the case in questions of security, things are a bit more subtle. A few days after I posted the update to HotBits, this
Handler's Diary
from the
SANS Internet Storm Center
came to hand. While it focuses on bank login pages, the underlying issue applies to any site which receives or delivers sensitive data using HTTPS. Secure connections provide two things: protection against the data being intercepted, and
authentication
: confidence, based on verification of the site's certificate and the authority which issued it, that you're actually talking to the site you believe you are. While the former doesn't require the login page (or, in the case of HotBits, the request form) to be delivered via HTTPS, the latter does. Let's see how a malefactor might exploit non-secure delivery of the request form, using HotBits as an example. (Granted, the stakes with HotBits are so low this isn't likely to happen, but if you mentally replace a HotBits request with the user name and password of your on-line banking service, you'll see how serious this could be.) Suppose some
chapeau noir
discovered that HotBits were being used for a security application worth compromising. They might, then, throw out bait intended to lure the unsuspecting to a bogus site, perhaps with a name which is a simple misspelling of "fourmilab" likely to entrap elbow-typers who regularly
strike out
when posting messages on public discussion boards: "forumilab.ch", say. Then, they might pollute the Web with "link farm" pages which wrapped the word "HotBits" with a link to a URL pointing to this impostor site, in the hope it would pop out of search engines. When a user arrived at the bogus site, everything would look precisely like the legitimate site, but when a secure data request was received, a copy of the data returned securely to the user would be saved, along with the requester's IP address, with the intent of nefarious exploitation in the future. By making the request form secure, the user is at least guaranteed that there is a certificate containing the name of the site they believe themselves to be accessing which their browser deems secure (or they've opted to accept after having been warned). In the case of the misspelled domain name, this doesn't help much, since if the user doesn't notice the spelling error in the URL, they probably won't notice it even if they choose to verify the certificate, but at least the information is there for the perspicacious. In the case of trolling for passwords, the stakes are much higher, since an innocent (but spelling-impaired) user might type his password into a non-secured page on a site named, say, "bankofamercia.com", thinking they were connected to Bank of America. Indicative of the seriousness of this threat is that fact that Bank of America has registered this misspelling (among many others, including "bankofamerika.com"—hee, hee, hee) to preempt such entrapment of their customers.
Posted at 00:16

Monday, April 24, 2006
Windows: Cygwin OpenSSH Service vs. Media Player KB911565/KB911564 Patch and iTunes Installation Hang
Microsoft issued two patches in February 2006,
KB 911565
and
KB 911564
, to correct a serious vulnerability which permits remote code execution. These patches installed without problems on all of the Windows systems here with the exception of the Windows 2000 machine I use as the system management station for the Alcatel PBX, the Check Point Firewall software, and assorted other gizmos which run only on Windows. On that system, installation of the KB 911565 patch hung halfway through, and only killing the installer task would get rid of it. I even tried installing the patch after booting in Safe Mode (which, of course, in the interest of "safety" destroys the positioning of all your carefully-arranged icons on the desktop—feel safer now?) Nothing doing: it still hung. The hang only affected these two patches; I had no problem whatsoever installing all subsequent patches up to the present. I even tried re-installing Media Player from scratch, but Windows Update still required the patches, and attempting to apply them hung as before. Being more or less out of ideas, I simply ignored these patches and removed them from the list to be applied when updating the system. Today, I tried to install
iTunes for Windows
on this system to permit downloading free "podcasts" without having to reboot my development machine into Windows and sit around while lengthy downloads complete, and the iTunes installer
also
hung before displaying its welcome screen. I popped up the task manager and noted that the CPU was pegged at 100% and, curiously, most of the CPU time was being consumed by the
OpenSSH
service installed under
Cygwin
. Even more curiously, when I terminated that task, the iTunes installer immediately popped up an "installation failed" dialogue. This was repeatable. Now, there's no legitimate reason the iTunes installer ought to be using any Cygwin component, not to speak of the OpenSSH service. Since I've never actually used the SSH login facility on this machine, I opened up the Services applet under Administrative Tools and changed the run status for the service from "Automatic" to "Disabled". After having done so, I restarted the iTunes installer and it worked perfectly. This hang was so reminiscent of the ones I'd experienced with the Media Player patch (and, after all, iTunes and QuickTime are similar in function to Media Player), I decided to try applying the two patches and guess what? They also both installed just fine. After the obligatory reboot after patching Media Player (in the interest of brevity I shall refrain from heaping scorn on an operating system whose architecture requires a reboot to update the
movie player
application), the system came up normally and everything appears to work. At long last, Windows Update reports the system current, with no high priority patches outstanding. Once bitten, and having no real need for it, I decided to leave the OpenSSH service disabled. Note that this report applies to a machine running Windows 2000 with Media Player 9; as I noted in the introduction, I have not had any problems installing these patches on other Windows systems running Windows 98 and XP, most of which also have Cygwin installed. I have no reason, therefore, to suspect this problem applies to systems other than Windows 2000, but if you're installing something sound-and-light related on a machine with Cygwin and it hangs, take a peek at the task manager to see if OpenSSH is devouring your CPU.
Posted at 21:09

Saturday, April 22, 2006
Fourmilab: WeatherCam joins FloodCam
After the
Great Fourmilab Flood
of February 2006, I installed the
FloodCam
so I (and anybody else who's curious) could keep an eye on the furnace room where the water entered. Due to the shortcomings of the Sony SNC-P5 camera I used (at least for my application), I resolved to try something different the next time, and ended up choosing an
AXIS 206M
megapixel network camera, in the hope its manufacturer would get it right. Did they ever! This is one of the cleanest network appliances I have ever encountered. Within five minutes after opening the box, I had live motion video streaming to my Firefox browser window on Linux, all without ever booting Windows, installing any software, or using any Microsoft products. The camera usually obtains an IP address from
DHCP
when you plug it into a network with the requisite server, but because I preferred to assign it a fixed address on the local LAN (behind the firewall), I set the IP address using
arp
and
ping
as described in the manual, which worked the first time. After that I simply pointed my browser at the camera's IP address, set the root password, and was able to immediately view images. The embedded Web server has a large and well thought out tree of configuration pages, from which I was able to enable automatic time setting with
NTP
, set the subnet mask for the LAN, and specify the DNS servers. You can set the camera's image properties from the configuration pages, and specify extras such as including the date and time and a camera identifier in the image. Unlike the Sony camera, the AXIS permits image retrieval with a user-specified resolution (not limited to the configured default) with a simple URL. Up to 10 separate users (limited by network bandwidth) can connect and view motion video simultaneously. Separate password protected user accounts can be set up with different privileges, but since the camera is on the LAN and outside access is blocked by the firewall, I specified unrestricted read-only access by any local IP address without a password. Maximum image resolution is 1280×1024 pixels, with about 12 frames per second of motion video in this mode (up to 30 frames per second in 640×480 and lower resolution). The CMOS image sensor provides 10 lux sensitivity. The manual focus lens has a fixed aperture of f/2.8 and 10 mm focal length, providing a field of view of 45°. Clicking the image above will take you to the
Fourmilab Live!
page with current images from both the Weather and Flood cameras. If the WeatherCam image is black, it's because it's dark out! You may occasionally catch headlights or taillights on the road at night, but there isn't a lot of traffic around here, especially after dark. The camera is physically tiny: 100×55×34 mm. It is intended to be permanently mounted, and comes with a mounting stand which includes a ball-joint which permits orienting the camera as desired, including flipping it over for ceiling mounting. Unless I've missed something, there is no socket for mounting on a camera tripod, but if necessary that can be easily kludged by gluing a 1/4 inch nut to the mounting base. At the moment, the WeatherCam is on a jury-rig mounting attached to a ladder with twist ties sitting in front of a south facing window. I will eventually replace this with something more solid, probably the next time I need to use the ladder. This
isn't the first time
a camera has been mounted on a ladder at Fourmilab!
Posted at 20:36

Friday, April 21, 2006
Reading List: 1968 : The Year That Rocked the World
Posted at 22:48

Sunday, April 16, 2006
HotBits: Secure Requests Now Available
The
HotBits
server has been providing random data, generated by radioactive decay, to all comers for almost a decade (it opened to the public in June of 1996). HotBits has even attracted modest press attention, with write-ups in The New York Times and, most recently,
Science News
. One constraint on the use of HotBits for security applications (for example, generating encryption keys or passwords) has been that the random data were returned to the requester in the clear and hence at risk of interception by a scoundrel snooping on the network connection between the user and the HotBits server. To reduce this vulnerability, requests for HotBits may now be sent via the
https:
encrypted protocol with results returned the same way. The user's confidence that the request has, in fact, been processed by the Fourmilab HotBits server can be reinforced by verifying the secure server's certificate, issued by
Thawte
, a root certificate authority which most Web browsers consider trusted by default. To request HotBits from the secure server, use the new
Secure HotBits Request
page, which is XHTML 1.0 and CSS 2.1 compliant, and contains an icon which confirms the validity of the Fourmilab certificate and may be clicked to verify it. The request page is not usually delivered in secure mode (because it contains no sensitive information), but the requests it sends to the HotBits server and the data returned by them are encrypted, as the security icon in your browser will indicate. While the secure request form has been upgraded to strict XHTML compliance, the HTML result returned from the HotBits server is unchanged (apart from being returned via the secure HTTPS protocol) classic HTML 1.0. A number of programs and subroutine libraries request HotBits data and parse the results programmatically, and changing the format of the data returned runs the risk of torpedoing these applications for no benefit other than purity of essence. Consequently, I have no intention of changing the HotBits results format in the foreseeable future.
Yes, I am aware that HTTPS/TLS/SSL encryption is not perfectly secure, nor are site certificates an absolute guarantee of the identity of the site to whom a user is submitting a request. This is the Real World™, in which nothing is ever completely certain (you may be dreaming you're reading this, on a computer screen you're hallucinating due to neural stimulation by tendrils grown into your visual cortex by the alien mutant vegetable you ate for dinner). There is no positive finite number whose reciprocal does not exceed my interest in debating such matters.
Posted at 00:23

Saturday, April 15, 2006
Reading List: Pleins feux sur. . . Columbo
Posted at 21:20

Thursday, April 13, 2006
Physics: Nagging Little Discrepancies
An interesting paper was posted yesterday on
arXiv
, "
Is the physics within the Solar system really understood?
" which summarises the following apparent anomalies for which there are varying degrees of experimental evidence:
I was unaware of 4, and 5 and hadn't heard much about 6 recently although it was rumoured something interesting might be in the
three year WMAP data
. This paper does not cite that data release. Wouldn't be interesting if all of these effects could be explained by the choice of too large a
numerical integration
step in a
simulated universe
? Note that items 3 and 4 both involve small apparent discrepancies in the motion of man-made objects which move more rapidly than most natural bodies on such geodesics—the creator (or, perhaps I should write, more reverently, "Creator") of a simulation who chose a time step suitable for planetary motion (for example, the 1/100th day integration step I used in the
Quarter Million Year Canon
computation) might just find themselves caught out by pesky in-simulation sentients who made precision measurements of high-speed gravitational assist maneuvers or objects on hyperbolic trajectories. Here are a few questions for physicists and numerical integration experts. Is the choice of an insufficiently fine integration step likely to produce discrepancies of the sign and magnitude observed in the Pioneer, fly-by, and astronomical unit anomalies? How large an integration step would be required to produce the deviations from general relativity in each case? Are they all the same, or related in a simple way? Are there observations of solar system bodies (for example, sun-grazing comets on hyperbolic escape trajectories or close asteroidal encounters with planets) which could exclude (or provide evidence for) this hypothesis?
Posted at 14:30

Monday, April 10, 2006
Reading List: Generation Kill
Posted at 22:09

Sunday, April 9, 2006
Backhoe 3, Internet 0
Around 17:30 local time of Thursday, April 6th, the 2 Mbit/sec leased line which provides Fourmilab's main Internet connectivity went down. The router detected the failure and, as it is configured to do, established a dial-up ISDN connection to my ISP to serve as a backup. This connection is limited to 128 Kb, and while it's fine for E-mail, DNS, and local access to Web sites, it is hopelessly inadequate for the outbound Web traffic, so as seen from the outside the site, while never actually down, appeared to run so slowly you could barely tell the difference. I subscribe to a service which makes HTTP requests to the site every 15 minutes from a variety of peering points in Europe and the U.S. and prepares a daily response time report. Usually, 90% of these polls complete in less than half a second, with the worst case on the order of three seconds. On "Black Thursday" the maximum response time was
more than twenty seconds
and the mean response was almost three seconds!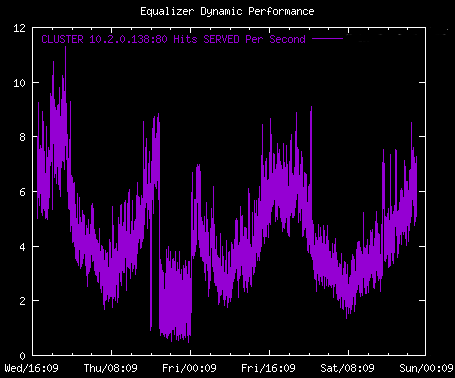 Here is how the outage looked from the load balancer. Instead of the usual mean HTTP request rate between 6 and 8 packets per second, there's a "notch" for the duration of the leased line outage where only about two packets per second were processed. (The earlier down-spike that day is due to my restarting the Apache HTTP daemon to "cycle" the Web access log to a new file; that only causes about a 10 second interruption in service, but the load balancer spots it and marks it on the chart. An outage longer than 15 seconds will cause the load balancer to start directing requests to the hot spare server, but a log cycle isn't long enough to trigger the fail-over.) The leased line outage was due, it turns out, to
two
Swisscom 20 Gbit/sec fibre optic backbone cables being cut, which darkened the Internet connectivity of some 30,000 clients, including Fourmilab. (Swisscom is not my ISP, but the line which connects Fourmilab to the ISP's point of presence in Bern is supplied by Swisscom.)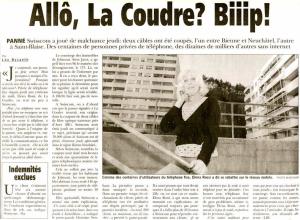 Notwithstanding the newspaper story (click the thumbnail for an enlargement), which quotes Swisscom as saying the outage was three hours in duration, in fact connectivity was not restored until about midnight, as you can see from the hit rate chart. This was confirmed by the service desk at my ISP, who said that all their customers with connectivity through the affected cables came back up at the same time. Connaisseurs of technological trouble know that events like this, like quarks and macroscopic spatial dimensions, always come in threes, and won't be surprised to read that almost at the same moment the two fibre cables were cut which took down Fourmilab's connectivity, a
third
, completely unrelated, cable was cut about five kilometres on the other side of Fourmilab. Swisscom attributed the reports of outages by customers served by this cable to the two they were already working on, and only finally twigged to the actual problem when fixing the first two cables didn't make it go away; some people were cut off from land-line telephone service for as long as 30 hours.
When my original ISP went bankrupt in the aftermath of the dot.bomb, I considered buying half of my bandwidth from each of two different ISPs, with a router configured to load balance as long as both were up. As it turns out, both of the two substantial connectivity outages I've experienced in the last 12 years were due to cables cut by excavations which would have, in all probability, taken down both ISP connections. As they said about the ascent engine on the lunar module, "some things just have to work".
Posted at 22:07

Saturday, April 8, 2006
Linux: Take-Out from the Diner
For fans of the prolific work of humorist
James Lileks
, Friday means another broadcast from "
The Diner
", a grab-bag of memories, music, and images from the bottomless dumpster of American popular culture. These are primarily audio programs, but starting in 2006, MP4 editions embellished with still images have been available. If you have one of those stylish pocket deafness appliances, it's said that you can just click the link without pausing to think but, if as I do, you play these programs on a Linux machine, it's rather difficult to download the MP4 files, which are hosted on the
web.mac.com
site that insists upon the presence of a QuickTime browser plug-in unavailable for Linux systems. You can download an audio-only MP3 edition, but then you miss the album covers, movie stills, and other graphics from the full version. Digging into the HTML source code for the download page, it turns out there's an embedded object which specifies the MP4 file as a parameter interpreted by the QuickTime plug-in. If you extract this file name and cobble up a URL containing it, you can download the MP4 file and play it on your Linux system. After doing this manually several times, I bashed together a little Perl program to automate the process, which is now
available for download
. Extract the "
Diner
" program from the archive and fix the path to Perl in the first line if necessary. Then you can download the MP4 file for a broadcast to the current directory by pasting the URL of its download page on a command line which invokes the Diner program. The program also works with other video features occasionally posted by James Lileks and hosted on
mac.com
. You can try the
Diner
program with the following links, whose target URLs should be copied and pasted onto its command line, not clicked directly (unless you have the requisite QuickTime plug-in, of course, in which case you don't need the program in the first place):
In addition to Perl, the
Diner
program requires
GNU Wget
to download files from the Web; this program is included in most modern Linux distributions. Once a file has been downloaded, the
Diner
program's mission is accomplished. Then it's up to you to find a compatible media player application and figure out how to play the file. If you can't manage to play it, this is
not my problem
—it wasn't I who littered the multimedia landscape with five or six thousand mutually incompatible ways to store video and audio in computer files! I play these files with
MPlayer/GMPlayer
, but this may or may not work for you depending on which version you're using and the complement of audio and video CODECs you have installed. If you can't get it to work, I offer you only condolences, not consulting.
Posted at 15:51

Friday, April 7, 2006
Reading List: Voyage à reculons en Angleterre et en Écosse
Posted at 23:58

Sunday, April 2, 2006
Reading List: Freakonomics
Posted at 03:08

Saturday, April 1, 2006
It Was Fifteen Years Ago Today. . .
…the Information Letter got away! Yes, fifteen years have come and gone since Autodesk
Information Letter 14
self-replicated its way onto desktops all over Autodesk (and beyond; it was, arguably, one of the most widely-distributed "internal memos" in the history of the computing industry up to that time). That wasn't my intent—like other documents, I had circulated a draft copy to a short list of people whose opinion I value before sending the memo to senior management. Unfortunately, one of the individuals to whom I gave a draft was somewhat deficient in discretion and made copies for everybody in his department, whence they started to spread in all directions. Information Letter 14 started the process of turning a complacent Autodesk around, which eventually resulted in the arrival of Carol Bartz as CEO a year later, in April 1992. To commemorate the fifteenth anniversary of Information Letter 14, a
new, easier to read edition
is now available, which is a prototype of the style to be used in the Fifth Edition of
The Autodesk File
which, given how much free time I have to work on it, will probably be available sometime in the twenty-sixth century. The new edition, like this Information Letter 14 pathfinder, will be 100% XHTML and CSS compatible, and use Unicode entities for typographic symbols unavailable in the Latin-1 character set. As in the Fourth Edition of
The Hacker's Diet
, each chapter will be a single HTML document, no longer chopped up into screen-size morsels as was done in previous editions in the interest of reducing download time for users with slow dial-up Internet access.
Posted at 21:23