« Christine Peterson Visits Fourmilab | Main | Animal Magnetism: Mollusc Mountaineer »
Friday, July 7, 2006
From Switzerland: Itty-Bitty Plants for Your Keychain
The latest fad in South Korea is minuscule cactus plants enclosed in plexiglas tubes with a ring on the top and cord which can be attached to a mobile phone or keychain.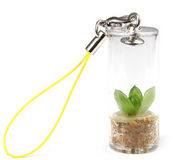 (In North Korea, the principal fads appear to be famine, atomic bombs, and rockets, which are nowhere near as adorable.) A Swiss woman, Véronique Demierre, has launched a home-based business to sell these little living things worldwide through a
Web-based store
, with English, French, German, Italian, and Spanish editions available. Sixteen different kinds of succulent plants are currently available, some of which Asians associate with virtues such as prosperity, friendship, strength, and luck. Well, maybe, but in any case they are indisputably cool, and delightfully

low maintenance: all you have to do is
place the bottom of the capsule in water
for two or three minutes once a month, and that's that. The plants are apparently sufficiently hardy (being small helps, of course), to withstand the knocking around they'll receive being carried in a pocket or purse. In three to six months, depending on the species and how much water and light it receives, the plant will grow to fill up the capsule, at which time it can be transplanted to a pot; some varieties will flower at maturity, one to four years later.
Mini-plants can be shipped worldwide via
Swiss Post
, and you can pay by credit or debit card in four currencies: CHF, USD, GBP, and EUR. This is, incidentally, the first site I recall encountering in the "
.biz
" top-level domain which isn't sleazy or peddling something disreputable. I discovered the site in an article in the July 6th issue of
L'Hebdo
, which is not available on-line.
Posted at July 7, 2006 00:11